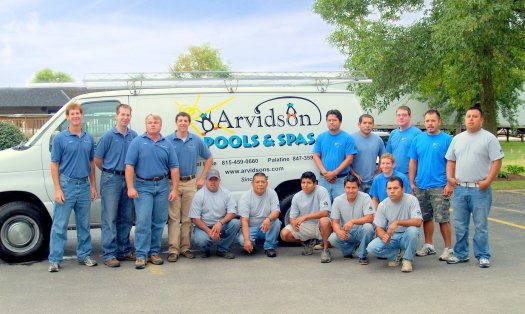 Good Service Doesn't Just Happen…
We've been a family-owned, family-operated business since 1958. Our expanded business family includes a very knowledgeable and competent staff of swimming pool, spa and residential water treatment professionals.
We're committed to providing value to you, our customer. In fact, our company's mission statement reflects this commitment:
"We will strive to build trust and create happy customers with high quality products, fair prices and friendly dependable service."
Operating a dependable service business requires organization, competent management and substantial capital investment. The service charge is based on several factors, including:
All of our technicians go through an extensive training program to ensure they have the knowledge and skill required to service your pool or hot tub.  Rest assured that you won't have costly problems down the road caused by inefficiency or ignorance.  You can count on us to get the job done right the first time around!
At the store, a full staff of experienced professionals schedule, route and supply parts and equipment making sure that your repair is not delayed by a missing part.  You can count on our office team to provide the necessary back-up support to the technician's on-site needs.
Today's advancements in technology make us more responsive than ever before.  Technicians are connected via laptops and smart phones to our office and quickly update customers and the store of any on-site needs and or changes to the schedule, etc.
The company's sizable investment in shop and warehouse facilities, trucks, communications equipment, tools, and replacement parts make us fully prepared to handle any pool or hot tub owner's needs. We do it quickly so you can get back to enjoying your pool or hot tub with the least amount of downtime.
We are proud to be recognized by Watkins Manufacturing with the 2014 Outstanding Service Award, an award given to one Hot Spring dealer from across the nation each year.
When you come to Arvidson for your service agreements, you can count on top-notch service and quality.
Looking for Service Agreements? Download One Here.