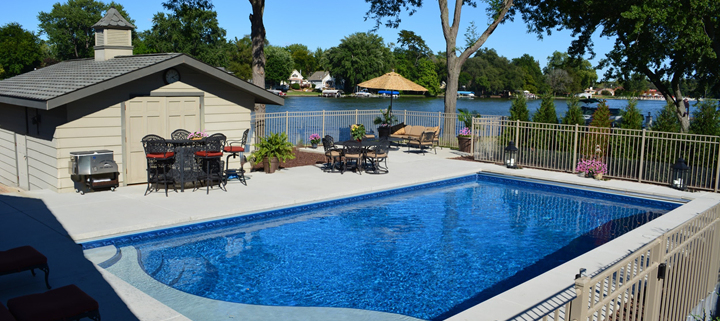 .We've got snow, ice, and freezing temperatures! Are you dreaming of summer days? We sure are!
Take action now and save 30% on pool chemicals!
One-Time Only Sale on Pool Chemicals
Looking out on the icy, sleet and frozen snow doesn't inspire a feeling of summer, but now is the perfect time to channel those warm, sunny days ahead!  We're doing our part to keep summer on your mind by offering a unique, one-time only Pre Early-Buy Sale on pool chemicals.  You save 30% from now through January 31, 2019, on chlorine, shock, algaecide, conditioners, and everything else you need to get your pool ready this spring.
Three Ways to Buy
Call your local Arvidson store (Crystal Lake, Palatine, St. Charles) to review previous year's purchases. Our retail team can help you determine what you need for the upcoming season and take your order over the phone. No need to fight the cold and snow, we'll hold your order until the spring.
Visit the store. When you do, be sure to renew your membership in the BioGuard TruBlue program and learn how it can help you achieve a crystal clear pool all season long.
Order online using coupon code EBSPECIAL19 at checkout. Or use the link below that automatically deducts the savings from your online order (minimum purchase must be $250).
February Begins Traditional Early Buy
Beginning February 1, the savings go down to 25% off a $250 minimum purchase.
In March, the savings drop to 20% on a $300 purchase. In April, the savings are 15% off a $350 purchase.
So, the next few days provide the most advantageous savings on products that you will definitely use in just a few months. 
Our Water Care Experts Are Here to Help
Applying the right products to your pool or hot tub water helps you achieve a safe swimming environment with water that's crystal clear and inviting. Our water care experts are available to help you determine what you need.
Bring in a 12 oz. sample of water from your pool or hot tub, and we'll run a FREE and thorough state-of-the-art, computerized test.  In about two minutes, you'll know what you need to achieve clean, balanced water!
Why BioGuard?
Pool care should be easy and BioGuard products provide exceptional quality with an easy to use system.  Check out the video to learn more about the benefits of using a BioGuard Pool Care System.
Remember, the Pre Early Buy Special ends on January 31! Call, stop in, or visit our shopping site to get the best prices on your pool chemicals now.
https://www.arvidsons.com/wp-content/uploads/2019/01/Are-You-Dreaming-of-Summer-Days.jpg
480
720
Arvidsons
https://www.arvidsons.com/wp-content/uploads/2015/08/logo-august4-2015-300x138.png
Arvidsons
2019-01-22 19:35:58
2019-02-26 16:02:56
Are You Dreaming of Summer Days?