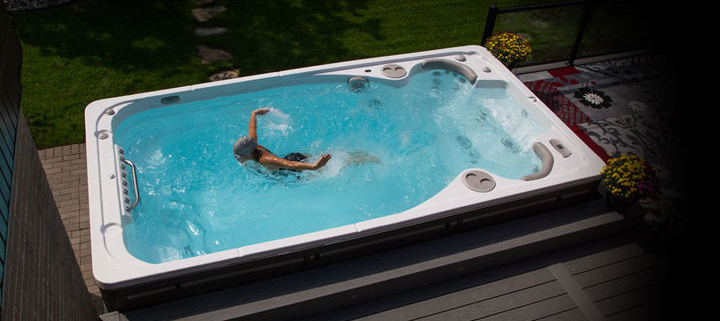 Shopping for a swim spa? The latest trend in backyard water recreation gives you the stress relief of a hot tub and the fitness benefits of a swimming pool.
A Hydropool Swim Spa offers the best of both worlds! It also does it in a lot less backyard space than you'd think!  Check out this video from Hydropool Swim Spas about the six things to consider before you buy:
If you've been wondering if this is a good choice for your family, here are six things to consider before buying a swim spa:
Reputation
The first thing to look for is a good reputation of both the retailer and the manufacturer.
Do your homework to make sure they have a strong business history and provide good customer service.
You want to know they'll be available to answer any questions you may have about the swim spa once it arrives in your backyard.
Do they provide follow-up care for your purchase? It's a good idea to find a retailer that provides water care advice, testing, and products.
You'll also want to make sure that they have a reputable service department.
The Swim Experience
If you are an athlete and are using the swim spa for training purposes, you want to make sure the swim spa has the necessary propulsion and adjustments to provide you with a high level of control over the swim current.
If you are using it as a family fun pool, you want to learn about the safety features of the spa. Knowing how you plan to use the swim spa helps guide your review of what it offers for the overall swim experience.
Fun & Fitness Combined
Even if your primary purpose for a swim spa is athleticism and fitness, odds are there are others who want to use it for general recreation and fun. Check out the additional features that might be available. Consider a boogie board for kids or an exercise kit for aquatic training. Keep each member of the family in mind as you assess how you will use it.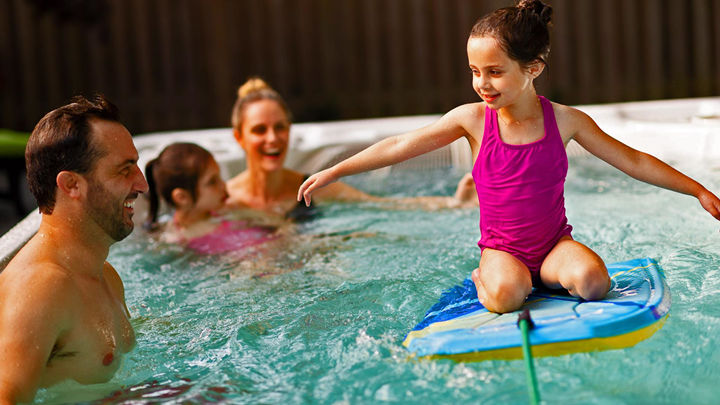 Comfort and Design
Whether you know it now or not, one of the best things you end up appreciating in your new swim spa is the hydro massage experience. Whether you're using the jets to ease sore muscles after a workout or just to de-stress after a long day, you want to make sure that it's comfortable. You also want to be happy with the jet massage.
Ask the retailer if you can schedule a test swim/soak. This is the best way to make sure you are happy with your final choice.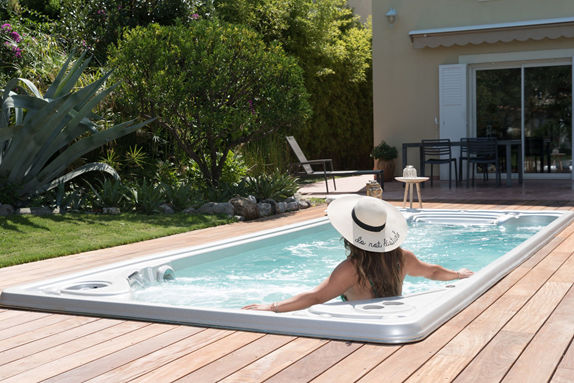 Easy Maintenance
Having a swim spa in your backyard is a great experience, but not if it gives you a headache just thinking about the maintenance.
Hydropool Swim Spas feature the Serenity Clean and Clear Filtration System. This system filters out body oils and impurities with the powerful pumps moving thousands of gallons of water per hour. This ensures the water is 100% filtered several times a day. To make the system easy to maintain, the recyclable filters easily lift out for cleaning or replacement.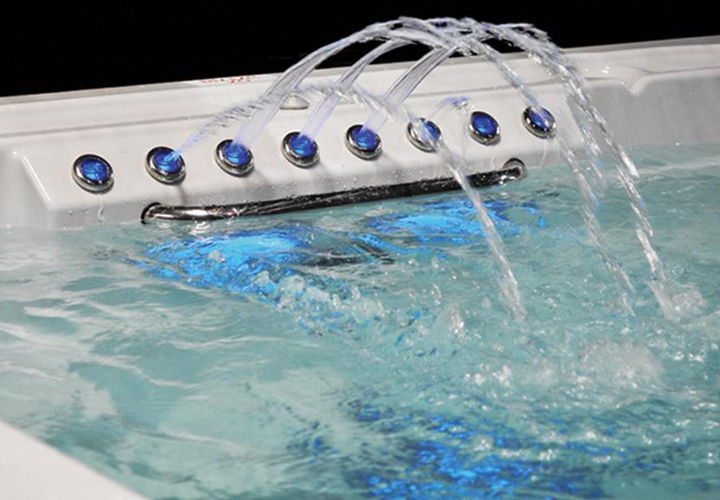 Energy Efficient
Swim spas are meant to be used all year round. That's one of the things that sets them apart from a regular swimming pool that is limited to warm water use. You want to ensure the swim spa you select has the necessary insulation to keep it running efficiently during all four seasons – especially here in Illinois!
A Final Suggestion
Swim spas, like all other leisure home products, have been in high demand since the start of the COVID pandemic. Lead times are longer than usual at this time.
Don't wait to finalize your order with the retailer you have chosen as it may take longer than you expected for delivery and installation.
Plan ahead so you have clear and reasonable expectations. Use the extra time to design your backyard space around the swim spa with landscaping, deck, and patio enhancements. This way, when the swim spa does arrive, you are ready to jump right into the fun, fitness, and family time you are dreaming about.
Download the Hydropool Swim Spa Buying Guide
You're on the journey to a new Hydropool Swim Spa.
But first, you want to learn more about how to buy one! Fill out the form to download the Swim Spa Buying Guide with need-to-know information and helpful things to consider during your buying journey.
*All items with a * are required. We will periodically contact you with exclusive promotional offers and product news. You may unsubscribe at any time.
https://www.arvidsons.com/wp-content/uploads/2021/05/Shopping-for-a-Swim-Spa-Here-are-6-Things-to-Consider-Before-you-Buy.jpg
330
720
Arvidsons
https://www.arvidsons.com/wp-content/uploads/2023/04/65-Anniversary-Firecracker-Website-340x156-4.png
Arvidsons
2021-05-01 19:22:14
2021-05-03 12:45:14
Shopping for a Swim Spa? Here are 6 Things to Consider Before you Buy!