Hot Tub Health Benefits
Explore the World of Physical and Emotional Benefits
Hot tub health benefits are far-reaching.  There are physical ones, like the relief of stress and tension from sore muscles, as well as emotional and mental ones. When immersed in the warm water, you can disconnect, decompress and emerge renewed.
A hot tub from Caldera Spas is so much more than a backyard improvement or an extra form of entertainment. A hot tub is the best investment in your physical health and emotional well being.
Regular hot tub soaks lead to a more relaxed person who sleeps better and has more energy. Time spent soaking in a hot tub leads to better relationships with friends and family.
Read about the most important hot tub health benefits here: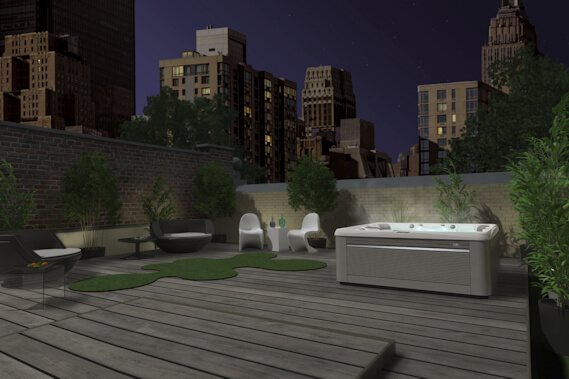 Have a Better Night's Sleep
Spending time in a hot tub before going to bed can lead to a deeper and more peaceful sleep. Millions of Americans suffer from sleep disorders, like insomnia. Lack of sleep can leave you feeling nervous, groggy and depressed or cause erratic mood swings. Because sleep researchers believe that insomnia can be traced to hectic, stressful lifestyles, relaxing in a spa regularly can help.
A drop in body temperature can also aid in easing your body into a relaxing and sound sleep. By taking a 15-minute soak in a hot tub about 90 minutes before attempting to sleep, your body temperature drops to enable a better night's sleep naturally without the grogginess sometimes caused by prescription remedies.
Arvidson Pools and Spas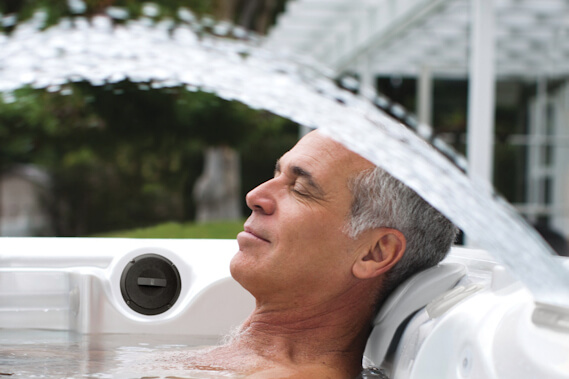 Promote Wellness
From the moment your body becomes immersed in a spa, it begins to experience mild changes that make you feel better. Dipping your body into warm water makes you feel weightless and, because of a change in hydrostatic pressure, can help dull any pain you may be feeling in your joints and muscles. The muscle-relaxation effects of hot water also help deaden muscle pain by easing any pinching of nerves or blood vessels, and by helping the muscle rid itself of lactic acid and other metabolic wastes.
Simply said, hot tubs give you the soothing warm water and buoyancy needed to release tension and improve your quality of life.
Arvidson Pools and Spas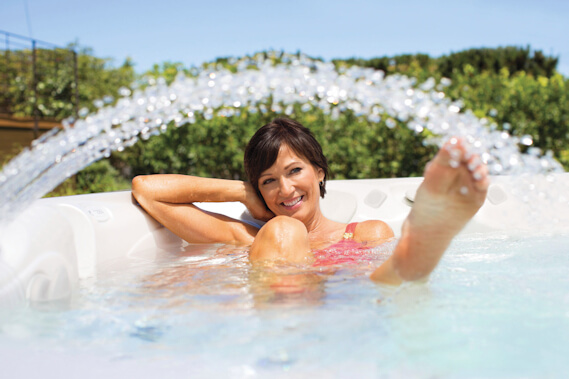 Relieve Stress with Hydromassage
Heat, buoyancy and massage are work together in your hot tub to create a totally relaxing hydromassage experience. The heat in a hot tub raises your body temperature, increasing circulation. The buoyancy of the hot tub reduces your body weight by 90% (with neck-deep immersion), relieving pressure on muscles and joints with a relaxing sensation of weightlessness.
Through relaxing massage, you'll experience tension relief in your muscles and joints, temporary relief from aches and pains, decreased anxiety and stress and of course, total, full-body relaxation.
Arvidson Pools and Spas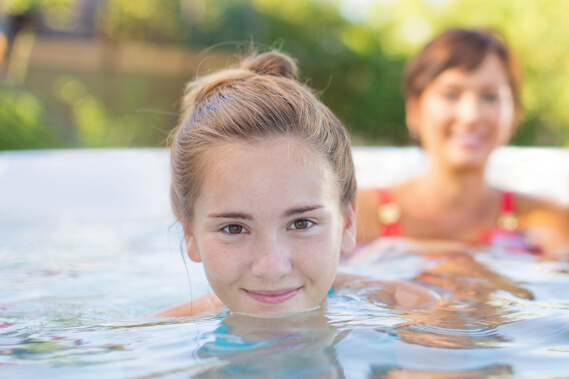 Enjoy Friends & Family Time Outdoors
Spend time with friends and loved ones, immersed in warm water, and you'll all enjoy a relaxing time to truly open up. Time in the hot tub is a great distraction-free zone to enjoy meaningful conversations and special moments with the people you care about most. You'll find that as a result, your relationships grow stronger.
Plus, the time spent outside is a time for reflection, starry nights, golden sunrises, falling snow, changing leaves, and so much more. With a hot tub, you have a private retreat steps outside your door. Surrounded by nature, you can take in the beauty we often take for granted. In these quiet moments you'll gain perspective and reconnect with what really matters.
Arvidson Pools and Spas