Is a Swim Spa Right for You?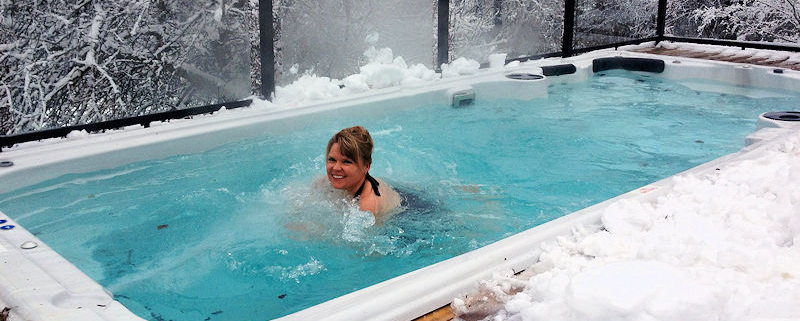 Do you love the idea of swimming year round but live in the Midwest where cold and snow inhibit dreams of swimming outdoors half the year?
Take heart, there is an answer for backyard swimming all year long … even in the Chicago area.  Swim spas, also known as all season pools, provide a heated pool environment right in your own backyard!
In this article, we answer the question, "Is a swim spa right for you?"
Why Consider a Swim Spa Instead of a Swimming Pool or Hot Tub?
Full-sized swimming pools are great for large families and entertaining large groups of family and friends.
The swimming pool lifestyle is great during the summer months. You have frequent opportunities to enjoy a dip in a cool pool during the warm weather.  Keep in mind, though, that unless it's indoors, you won't be using it during the harsh winter months.
Is a hot tub an answer for water lovers in winter?  Sure!  They are relatively compact and provide the opportunity for outdoor soaking in warm water all winter long. However, if you're more interested in swimming than soaking, a hot tub is not the answer for you!
Swim spas are the perfect solution for all-year swimming enthusiasts who love the outdoors.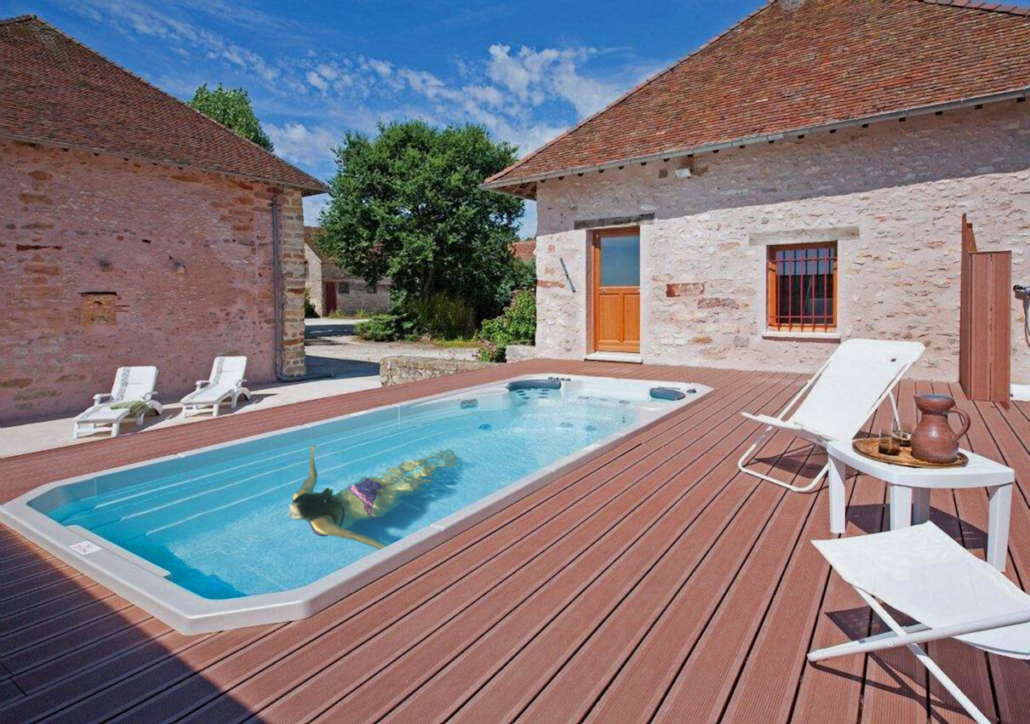 How Do Swim Spas Work?
A swim spa gives you the best parts of a swimming pool and a hot tub.
Swim spas generate a current that allows you to swim against it and stay in place. It's similar to how a treadmill works for a jogger. Because you're kept in place while swimming, you never reach the end of the pool or need to turn around and swim back to the other side.
This treadmill-like function allows the swim spa to be much smaller than a lap pool or full-sized swimming pool.
Another swim spa benefit … because of this smaller size, it's easier to keep the water heated. As a matter of fact, you can turn up the heat to a point that it mimics the effects of a hot tub. So, when you simply want to soak and relax, it's as simple as changing the setting on the thermostat.
Some swim spas have two separate tanks – one made for swimming and the other made for soaking. This allows you to have two different water temperatures at the same time.  You can also simultaneously swim and soak.
What Do You Need to Know About Winter Use?
If you're planning on using your swim spa year-round, you need to take a few precautions. You want to make sure to buy a quality model with the most insulation possible, like the leading energy-efficient insulation that Hydropool offers.
This insulation keeps the water heated during the cold months without exorbitant energy bills.
The Finishing Touch – A Quality Cover
Once your new swim spa is placed on your patio, deck, or backyard don't forget the importance of a well-insulated, tight-fitting cover. The cover helps trap heat, deep out debris such as snow, sleet, dust, and dirt providing warmer, cleaner water every time you use your swim spa.
Keep the Heater On
If you do plan to run your swim spa over the winter, plan on keeping the heater going throughout the season to prevent the water from freezing and causing damage to the plumbing and swim spa.
You can adjust the temperature if you know you won't be using it for a while, but don't want to completely shut it down. If there is a reason you would not be using it over the winter months, plan on winterizing it to protect against damages.
Ready for a Swim Spa?
When you are ready to select a swim spa for your backyard, Arvidson Pools & Spas has a great selection of top-quality Hydropool Swim Spas to choose from.  Whether you are training for a triathlon or are a recreational swimmer, we can help you find the model and size that is perfect for your space and interests.
Contact us today, and we'll be in touch to answer any questions and help you make the Midwestern winters more bearable.
https://www.arvidsons.com/wp-content/uploads/2020/03/Is-a-Swim-Spa-Right-for-You.jpg
419
800
Arvidsons
https://www.arvidsons.com/wp-content/uploads/2023/04/65-Anniversary-Firecracker-Website-340x156-4.png
Arvidsons
2020-03-02 19:34:57
2020-03-02 19:34:57
Is a Swim Spa Right for You?