Arvidson Pools & Spas Unveils Newly Remodeled Showroom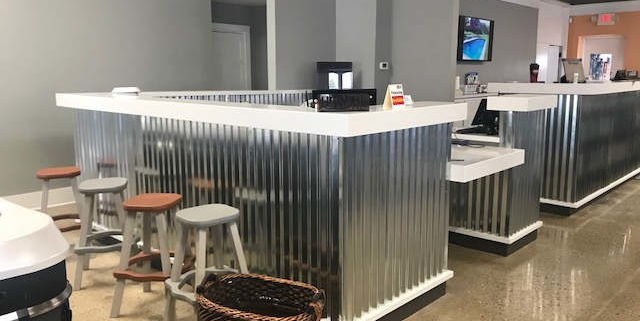 Arvidson's is celebrating its 60th anniversary in 2018! As we embark on this landmark year, we're excited to unveil our newly remodeled showroom!
We're Investing in the Future
"We've made a six-figure investment at our Palatine, Crystal Lake, and St. Charles locations this year to provide our customers with a quality experience wherever they visit us," said Dennis Marunde, President.  "We're very proud of the integrity and high level of customer service that we've established at Arvidson, but we know there's always room for improvement. This remodeling project and the many other upgrades taking place at our other locations is a symbol of our commitment to our customers and our communities. We hope you'll join us at our Grand Reopening and see the beautiful new surroundings that exude a sense of well-being and serenity.  This is what our products are all about, and we want our retail spaces to convey that as well."
Grand Reopening Event Scheduled
We're hosting a special Grand Reopening reception on Thursday, April 12, from 6:00 – 8:00 pm.
We invite you to join Arvidson owners, staff, vendors, and community members to see these exciting upgrades for the first time.  Music, hors d'oeuvres, and drinks add a festive atmosphere.
Representatives from Caldera Spas, Hydropool Swim Spas, and BioGuard are on hand to speak directly with customers about their products. Contact Jami at 815.459.0060 with questions or to RSVP for this event.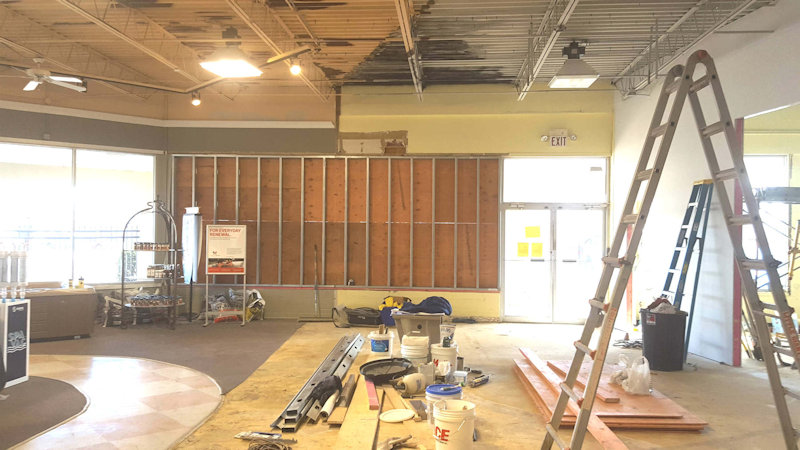 What's New Inside?
First, Palatine customers will immediately notice the beautiful restoration both inside and outside.
Next, enhancements include an expanded space with a new "mood room" where you can test a Caldera Utopia Spa or Hydropool Aquatrainer Swim Spa.
In addition, the new customer restroom (adjacent to the mood room) now serves as a changing area also.   Our water testing station has also received an update with the addition of modern steel facing which is also used at the checkout station.
And Outside …
We're boasting a new full color, electronic sign with rotating messages. The sign alerts passersby about specials, store hours, time and temperature, and other announcements.  Plus, we repaved the entire parking lot, and added additional parking spaces to make it more convenient to access the store.
You Could Win Great Prizes
Lush robes and towels, candles, and valuable gift certificates will be won at our big event.  We are also sharing details of an exciting hot tub promotion that we're hosting in celebration of Arvidson's 60th Anniversary.  If you've been thinking about buying a hot tub, this is the year to take the plunge!
Happy 60th Anniversary, Arvidson
Bengt Arvidson, grandfather of current owners Dennis Marunde, Doug Marunde, and Dan Arvidson, founded Arvidson's in 1958. We welcome you to share this milestone occasion! Enjoy special promotions and events that take place all year long beginning with this Grand Reopening Event.
Subscribe to our newsletter or follow us on Facebook page to learn about all of the 60th Anniversary events and promotions happening throughout the year.
https://www.arvidsons.com/wp-content/uploads/2018/04/Palatine-Store.jpg
480
640
Arvidsons
https://www.arvidsons.com/wp-content/uploads/2023/04/65-Anniversary-Firecracker-Website-340x156-4.png
Arvidsons
2018-04-10 16:03:07
2018-04-10 16:18:48
Arvidson Pools & Spas Unveils Newly Remodeled Showroom