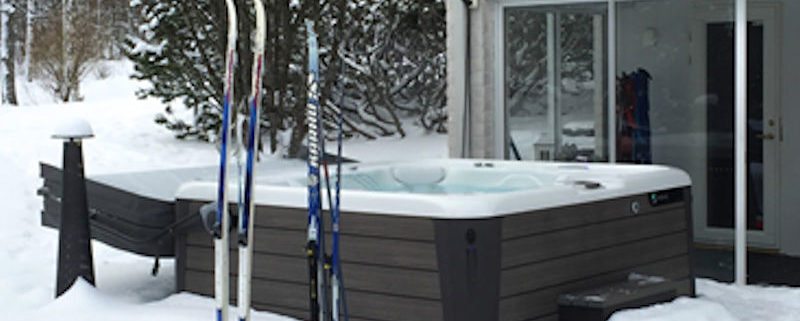 Winter is coming with frosty temperatures, white snow-covered landscapes and cheerful holiday gatherings with friends and family.
It's also one of the favorite times of year for hot tub owners to enjoy the unique experience of bracing the cold trip to their backyard hot tub before sinking into the comfort of swirling, warm water.  As you watch the steam float into the evening air, you can almost catch a glimpse of snow-capped mountains in the distance … or at least imagine it!
Whether you are a veteran winter-time soaker or are building up the courage to try it for the first time, here are six ideas to make your winter hot tub experience magical:
#1: Skip the Shoveling
Hot water that falls on the deck or a shoveled pathway to the spa can freeze and create slippery surfaces.  One way to avoid this is to forego shoveling a path to the hot tub.  Instead, use an electric heated mat that melts snow on contact and helps provide a safe surface to walk on between your door and hot tub. Not only does this help prevent icy surfaces, but it's a more comfortable surface for bare feet!
#2: Cold Weather Causes Dry Skin
Give your skin an extra moisturizing treatment by putting a few drops of Insparation Aromatherapy into the water.  These products (available at all Arvidson locations) are infused with vitamins, extracts, and moisturizers and come in a wide variety of enticing scents. Stock up the week before Christmas when all Insparation scents will be 20% off.  You can also order online using Coupon Code weekly1217 from December 17-23.
#3: Set the Mood
Create a winter wonderland atmosphere with candles and/or white lights. This is especially beautiful on nights when snow is gently falling!  Bridgewater Mingle candles come in a handy tin that won't result in broken glass in the snow if it happens to fall over.  All Bridgewater Candles are 20% off in December.  Be sure to use Coupon Code dec18 for online orders.  Added bonus: every candle purchased provides a meal through Light a Candle, Feed a Child.
#4: Where's the Cocoa?
Don't forget to enjoy a hot cocoa or your favorite warm, holiday beverage either while in the spa or immediately following your soak.  This is extra special with a dish of Christmas cookies!  Arvidson Retail Division Manager, Nadine Nuzzo, loves decorating cookies.  She recommends beautifully created holiday or specialty cookies from Just 4 You Treats in McHenry, Illinois.  Or better yet, join in on the fun at one of their holiday cookie decorating classes!
#5: Save Energy!
When you leave the hot tub, take a moment to ensure that all the cover flaps are down and not folded back.  Give a small push to the front of the cover to make sure that the hinged sections touch and there are no gaps for warm air to escape.  If you see icicles forming on the cover then you know the cover isn't on properly or may be water-logged.
#6: Avoid Common Cold Weather Mishaps
Take extra care to ensure that your filters remain clean throughout the winter months.  If the circulation and heater pumps don't have adequate flow, your hot tub could go into protection mode and shut down.  If that happens and you aren't aware of it, there is the risk of freezing the plumbing.  "I always start out the winter season with new filters or at least a new circulation pump filter," says Nuzzo.
Trade In, Trade Up
If it's time to trade up, stop by or call our hot tub experts at each store to learn about special year-end savings of 25% off all 2018 models and additional markdowns on select hot tubs in stock! Plus, during this giving time of year, Arvidson will donate $100 to charity for every hot tub sold in December 2018.
Winter-time soaking is magical!  Brave the cold and give it a try… you'll be glad you did!   
https://www.arvidsons.com/wp-content/uploads/2017/11/hot-tub-snow.jpg
602
800
Arvidsons
https://www.arvidsons.com/wp-content/uploads/2015/08/logo-august4-2015-300x138.png
Arvidsons
2018-11-13 08:00:33
2018-11-14 10:45:52
Six Ideas to Make Your Winter Hot Tub Experience Magical