The Instant FROG Mineral Pool Sanitizer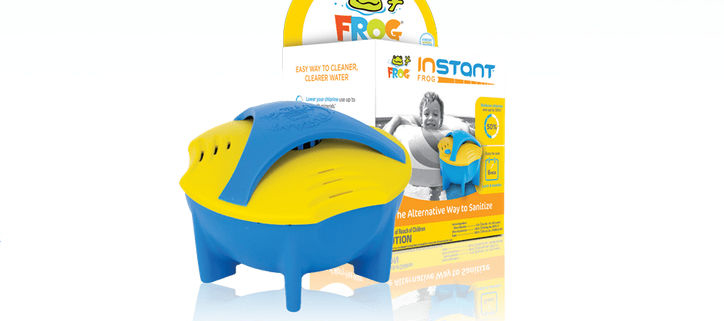 We're so excited to bring you the Instant FROG Mineral Pool Sanitizer! It's the alternative way to sanitize your swimming pool.
We love the fresh approach to clean, clear water using mineral technology.
The Instant FROG Mineral Pool Sanitizer
With this great product, you can:
Reduces chlorine use up to 50%*
Set it and forget it
Expect it to last up to six months
Enjoy the comfort and bacteria killing protection of FROG. In one easy step you get a full season of crystal-clear, soft feeling water. Put Instant FROG® in your skimmer basket, and it delivers FROG's fresh sanitizing minerals for six months.
FROG's sanitizing minerals kill bacteria and reduce chlorine use up to 50%*. That means the harsh effects of chlorine are out, and a season of pool fun is in. It's prefilled for no mess, no guess and no stress. It's a notable difference!
Instant Frog FAQ
Cleaner, Clearer Pools
Get a clearer, cleaner pool instantly.
These minerals reduce the need for chlorine by up to 50 percent while transforming your pool water into Fresh Mineral Water that's sparkling and silky smooth.
Instant FROG is quick and easy to install. Simply drop it into your pool skimmer for the entire summer, allowing you to turn your chlorinator down or fill your chlorine floater less full because you only need a low 0.5 parts per million of chlorine. Simply replace it every spring for continued protection.
For in ground pools only up to 25,000 gallons
Sits in the skimmer and reduces overall chlorine use up to 50%
Lasts six months or one pool season whichever is shorter
Supplement with chlorine through a floater or under the Instant FROG
Does not contain copper
Always maintain a low chlorine level of at least .5 ppm and shock when needed
Instant Frog Manual
Get the info you need in this manual!
https://www.arvidsons.com/wp-content/uploads/2022/03/Instant-FROG-Mineral-Pool-Sanitizer.jpg
450
724
Arvidsons
https://www.arvidsons.com/wp-content/uploads/2023/04/65-Anniversary-Firecracker-Website-340x156-4.png
Arvidsons
2022-03-22 15:23:05
2022-03-22 15:25:33
The Instant FROG Mineral Pool Sanitizer