Where Should You Put Your New Hot Tub?

Wondering where you should put your new hot tub?
First, you've heard "location, location, location" a million times before when buying a house.
The same holds true when thinking about where to place your new hot tub in your backyard. You want to look at your patio, your trees, flower beds, and any play areas.
If you've always dreamed of buying a new hot tub but you aren't quite sure where to put it in your backyard, check out this article for tips.
Think About How Easy It Will Be to Get To
You want to soak in your hot tub often, making sure it's easily accessible.
The closer it is to your back door, the more likely you are to make hot tub soaking part of your daily routine. Convenience is the name of the game here.
You also want to think about safety – the last thing you want is kids hopping in unsupervised.
Think About Structural Support
While it might not look like it, a hot tub is heavy once you've filled it with water. And if you purchase a larger hot tub, it gets even heavier.
This is why you want to choose a spot with some solid structural support.
Consider options like gravel, concrete pads, bricks, and paving stones. If you want your new spa on your deck, do be sure and check with a building contractor or structural engineer to be sure your deck can handle the weight.
Think About Delivery Access
When we deliver your new Caldera Spa hot tub, we'll need to get it from the front of your house to your backyard.
Our delivery crew needs a path that's wide enough to support the dimensions of the hot tub and our team.
As you consider spots in your backyard, map out your path and check the clearance on each side. We'll provide you with pre-delivery instructions for each model to help you.
Also, ask yourself if you need to move gates, railings, or sections of your fencing. This may provide us with the access we need.
If you have extra tricky access, we may need to use a crane to deliver your hot tub. Rest assured, we've done this many times before!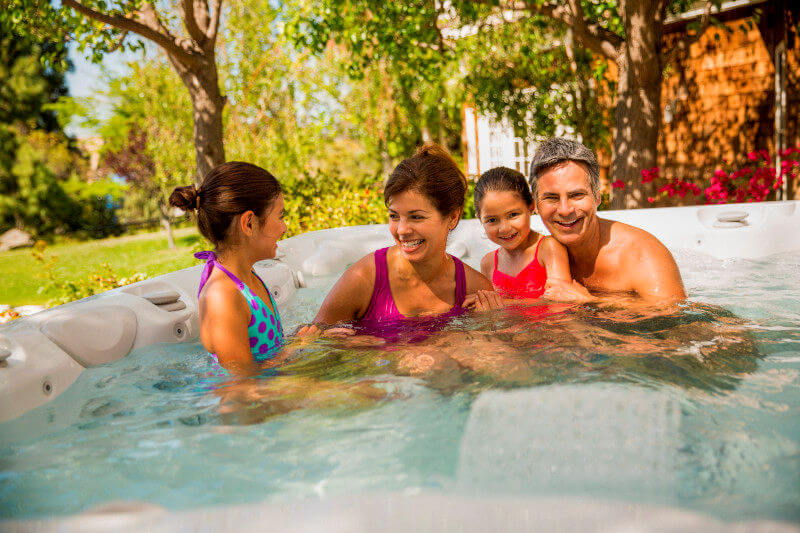 Think About Drainage
Another thing to consider when deciding where to put your hot tub is the drainage. The last thing you want is a heavy downpour to cause you issues.
In addition, you'll want to drain your spa a couple of times per year. Do you have the proper drainage to handle the extra water?
Try to put your new spa near a drain that can direct water away from your hot tub. If your hot tub is a wood deck, be sure to seal the wood.
Think About Maintenance
Along with putting your hot tub in a spot that's easy to get to you, you also want to make sure your hot tub is easily accessible for routine maintenance and even repairs.
You are more likely to maintain your spa if it's easy to get to. Make sure you put it in a spot where you have easy access to the access panel. Try not to put objects in the way.
Think About Privacy
Most people don't put their hot tub in their front yard. Why? They want a more private location.
You want to put your spa in a private and comfortable spot. When you place your hot tub, this is most likely where it will live for many years. So, be sure to choose a spot that's comfortable for your entire family.
You can also plant trees or put a privacy fence or pergola around your spa for extra privacy.
To Conclude
Choose the perfect spot for your new hot tub, and you'll enjoy a soak every day. You'll soon notice you feel better, ache less, and sleep more soundly.
If you have any questions, please contact us today. One of your expert team members can help you find the best spot in your backyard!
https://www.arvidsons.com/wp-content/uploads/2022/10/Where-Should-You-Put-Your-New-Hot-Tub-560.jpg
1001
1500
Arvidsons
https://www.arvidsons.com/wp-content/uploads/2023/04/65-Anniversary-Firecracker-Website-340x156-4.png
Arvidsons
2023-10-03 08:00:23
2023-10-02 20:44:00
Where Should You Put Your New Hot Tub?