2020 is the Year to Improve Your Backyard

Summer vacation takes on a whole new meaning in 2020. With airlines, hotels, cruise ships, and destinations put on hold, more and more people are  creating a resort-like atmosphere right in their own backyard.
This is why we think 2020 is the year to improve your backyard and create your perfect retreat!
A Trend in Backyard Retreats
At Arvidson Pools & Spas, we'e seen an increase in the number of calls and inquiries from homeowners looking to add a hot tub, above ground pool, sauna, swim spa or custom in-ground pool in their backyards.
"Our company tagline, Making Your Life Better at Home, has never been more appropriate," said Dennis Marunde, president of Arvidson.
"Whether it's a new pool or a hot tub, these products provide a healthy diversion in this unusually stressful time. Everyone is looking for ways to stay healthy, stay fit, be with family, and what better way to do that than in water?"
Let's look at a quick summary of the various options available to make your backyard living more comfortable, healthy, and restorative: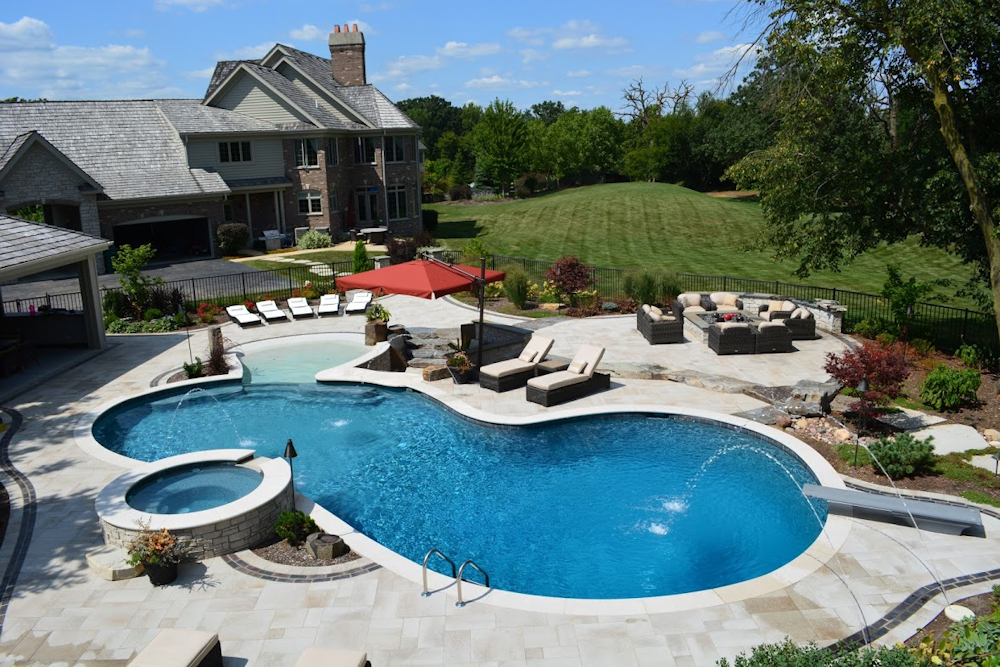 In-Ground Swimming Pool
Your own backyard swimming pool is one of the best decisions you can make to enhance your home life.
Experienced swimming pool owners agree that benefits include:
A healthier, more peaceful lifestyle
Increased entertainment options
Wonderful family memories
Arvidson Pools & Spas knows that investing in a swimming pool is a big decision. We know it involves planning and careful consideration of the balance between features, design and cost. We bring more than 60 years of design and construction expertise to every project.
And we never forget that our family name is attached to every one of our pools for years after our job is done.
Of course, the timeline for an in-ground pool is longer and requires more planning. We've prepared a Pool Buying Guide to help answer many of the preliminary questions most people have when considering an in-ground pool.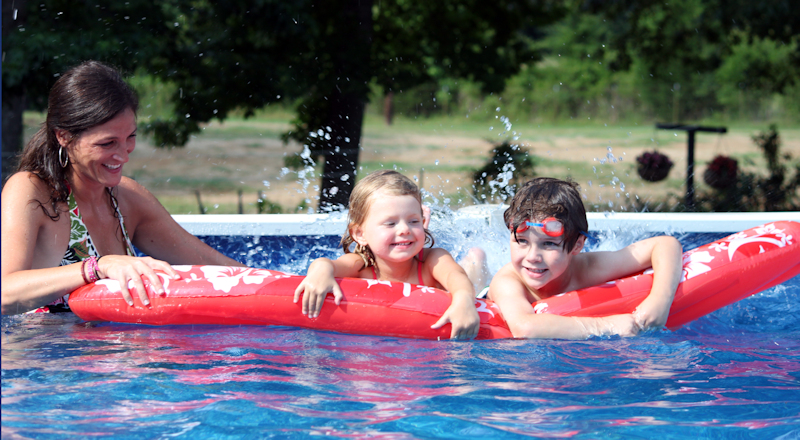 Above Ground Swimming Pool
Today's above ground pools feature sophisticated engineering and ultra-durable materials.
Usually a vinyl lining is laid over a supporting structure made of steel, aluminum, wood, or resin.
Resin offers advantages over other types of materials in that it does not get hot or rust and corrode like steel or aluminum and requires little maintenance.
Some models can be installed semi in-ground giving you additional ways to incorporate the pool with your other landscaping.
At Arvidson Pools & Spas, we offer Doughboy, Embassy, and Radiant above ground pools. Keep in mind it may take 3-4 weeks once your pool is ordered to when it arrives.
Regardless of whether you choose to install your new pool yourself or hire a professional installer, it's very important to follow the instructions provided by the pool manufacturer. An above ground pool buying guide can help guide you through the process.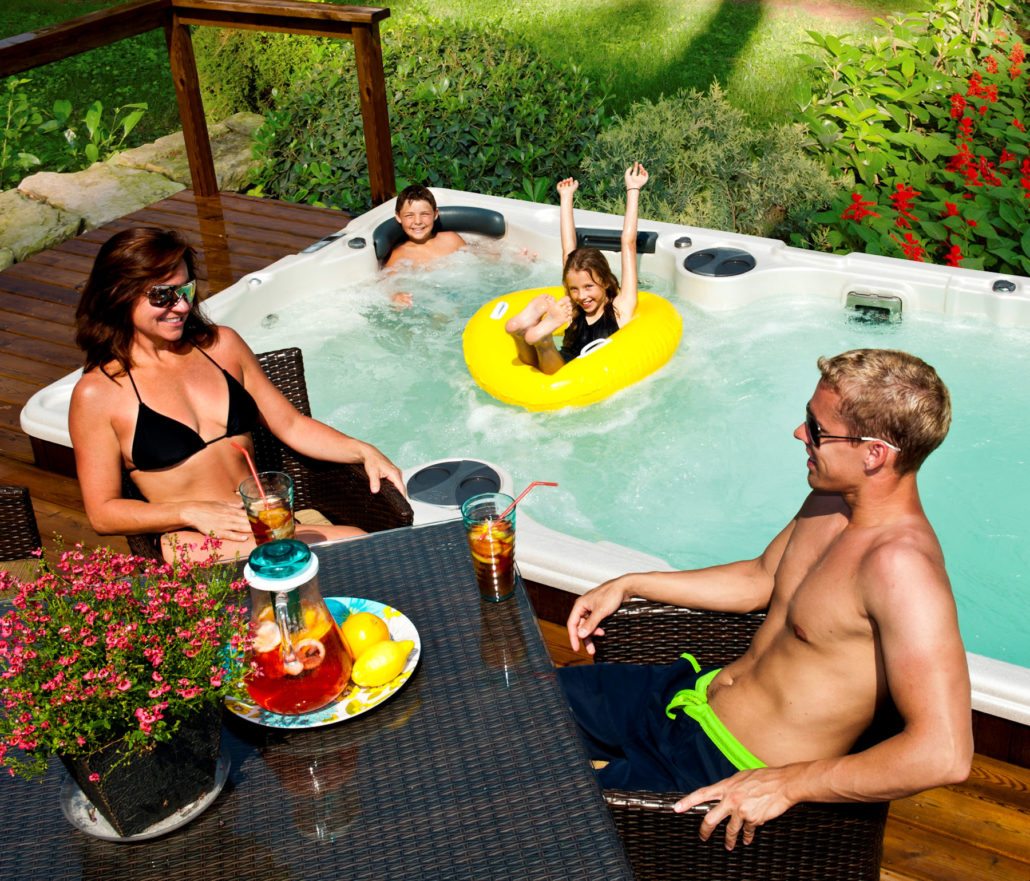 Swim Spa
Swim spas provide the perfect way to swim every day no matter what the season.
Without access to local, community pools, swim spas provide an option for serious swimmers to continue their training regimens. Hydropool swim spas have a customizable swim current. Because of this, you can vary the flow of water. You can also adjust the swim intensity of the swim jets to match your swimming abilities.
Plus, the exclusive self-cleaning system cleans 100% of the water every 40 minutes. This keeps your maintenance to a minimum. This is another great backyard option if you have limited space.
If this is a consideration for you, download this swim spa buying guide for more information about this trending recreational product.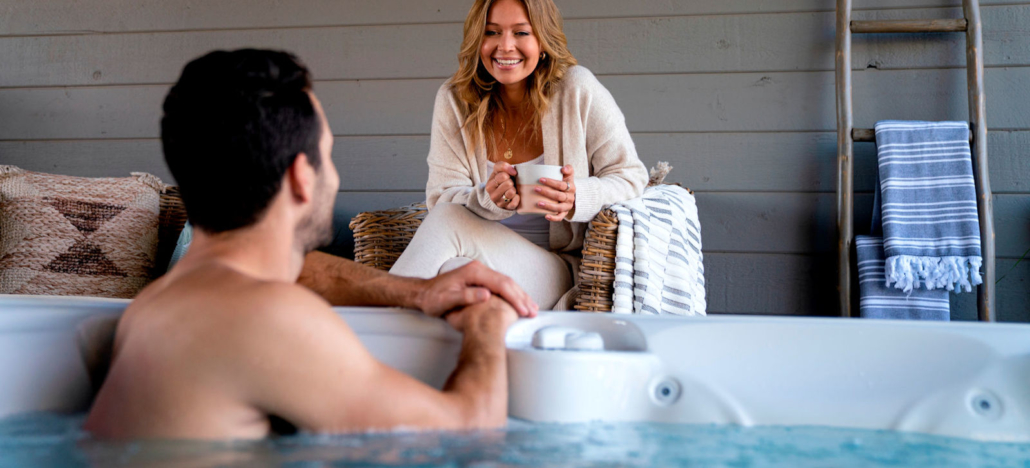 Hot Tub
Nothing beats the relaxation and stress-relieving benefits of hot water soak with jets that soothe sore, tired muscles. After 20 minutes in a hot tub, you emerge feeling refreshed and rejuvenated. You are ready to take on the day or ease into a restful slumber.
During the craziness of the constant stream of COVID-19 news, isolation from friends and family, and digital overload, slipping into the hot tub provides the perfect way to share the day's events with your close family members.
It's a phone-free zone!
Arvidson offers dozens of models and options in the Caldera line to the Fantasy line. You'll find saltwater spas and plug-n-play models. There is certainly a hot tub to match your backyard space, family size, and budget. Take this quiz to find your perfect hot tub and let our hot tub experts go to work finding the perfect model for you.
Water Care is Simple
The CDC has confirmed that the COVID-19 virus is not spread in pools and hot tubs.
Arvidson Pools & Spas has a fully trained staff on hand to provide you with the products and knowledge needed to keep your pool or hot tub in perfect condition.
Water testing with an advanced, state-of-the-art machine provides accurate and clear analysis of your water's needs. We also provide a print-out with recommendations for the BioGuard products that help balance the water for sanitation, clarity, and quality.
Our stores are open for water testing on weekdays from 10 am – 5 pm and weekends from 10 am – 4 pm. You can also place an online order (or by phone with a credit card) for curbside parking. We are protecting your safety, as well as that of our employees, by providing these services with no direct contact.
Ditch the Vacation, Make Your Backyard a Celebration
Improving your backyard space means unlike a vacation that's over in a few days, your new pool or hot tub is there for years to come.
So, for now and any future viral concerns, you know that you will have a safe, healthy, accessible "resort" right in your own backyard.
Photo by jill111–334088 on Canva
https://www.arvidsons.com/wp-content/uploads/2020/05/2020-is-the-Year-to-Improve-Your-Backyard.jpg
1000
1500
Arvidsons
https://www.arvidsons.com/wp-content/uploads/2023/04/65-Anniversary-Firecracker-Website-340x156-4.png
Arvidsons
2020-05-23 19:59:47
2020-05-23 20:04:50
2020 is the Year to Improve Your Backyard