Summer is finally here. The 4th of July holiday is right around the corner, but with many COVID-19 restrictions still in place, pool owners wonder about hosting their annual Independence Day pool party.
While there are many personal factors to be considered, it's smart to take some added precautions to help keep everyone safe. Here are six tips for hosting poolside in 2020.

Control Your Guest List
This is not the year to let the kids invite their entire sports team or all of their classmates to the house.
Assuming our state moves into Phase 4 at the predicted time of June 26, we should be able to gather in groups less than 50.
For most people, that will certainly allow you to host extended family or a group of friends.
That being said, it's still important to allow guests to have plenty of room to maintain distancing practices. Start by measuring the deck and yard area and plan to place loungers, chairs and seating areas with 6' in between when possible.
This way you can determine the number of guests you want to invite based on your available backyard space.
Keep Surface Areas Clean
Spend some time giving your surface areas such as patio tables and chairs, coolers, swim step handles, and other high touch spots some extra cleaning with a disinfectant. Make hand wipes and hand sanitizer readily available for your guests to use throughout the day.
Sanitized Water is Safe Water
This one is obvious. Regardless of the new prevalence of COVID-19, pool water needs to be sanitized in order to be safe for swimming. This includes maintaining chlorine levels between 1-10ppm minimum.
Use the BioGuard 3-Step program as a guide for keeping your pool sanitized and algae-free. Our in-store water care experts are happy to help!
Plan Ahead and Give Your Pool an Extra Boost
We offer free water testing and are available to answer any questions you may have about your pool's water chemistry. In fact, it's not a bad idea to blast the chlorine levels before a party. Give your pool a healthy dose of chlorine to combat the added amount of sunscreen, lotions and makeup that can lower sanitizer levels.
Have Fun at a Distance!
Make sure you have plenty of options for fun in the sun and easy-going relaxing by giving your guests plenty of space to float. Ready to replace your tired noodles and floats? Take advantage of Arvidson's July 2020 special of 25% off all pool toys and floats! Sale runs July 1-31.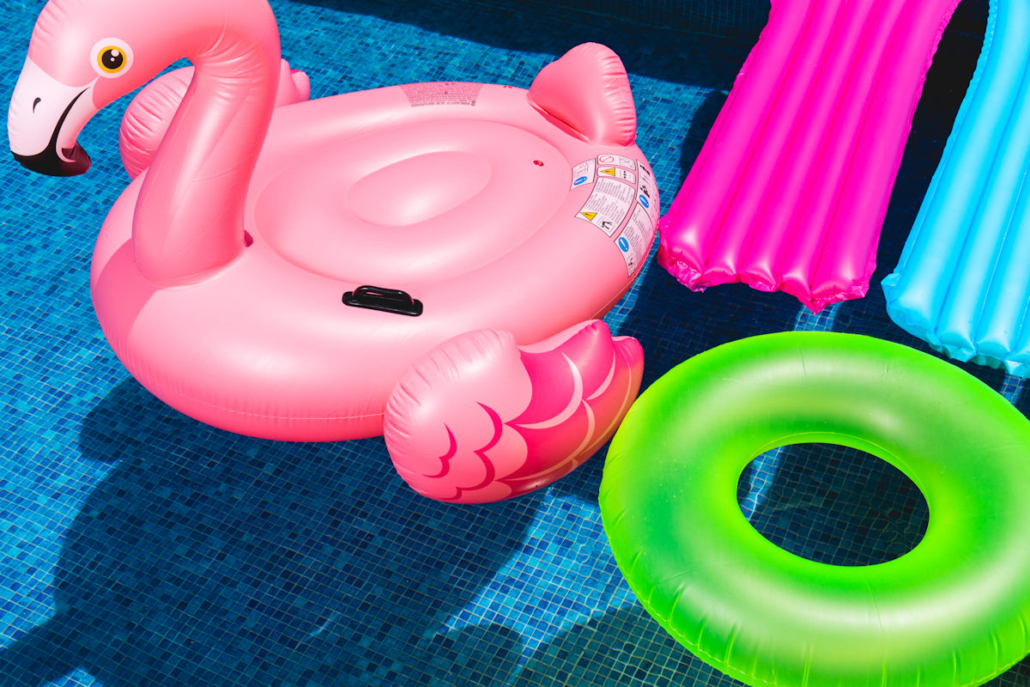 Keep Calm and Swim On
The CDC has confirmed that the COVID-19 virus is not spread in pool and spa water. Here is the applicable statement from the CDC website: "There is no evidence that the virus that causes COVID-19 can be spread to people through the water in pools, hot tubs, or water playgrounds. Additionally, proper operation of these aquatic venues and disinfection of the water (with chlorine or bromine) should inactivate the virus."
Final Thoughts
We'd love to hear your ideas about safely planning small gatherings this summer.  Respond in the comments section or share them on our Facebook page with other pool owners in the area.  In spite of this unusual start to the summer season, we wish you all a fantastic Independence Day Celebration.  As a reminder, our stores are closed on Saturday, July 4.
Photo credit: Edneil Jocusol, Toni Cuenca and sergio souza
https://www.arvidsons.com/wp-content/uploads/2020/06/Hosting-Poolside-in-2020.jpg
1200
1800
Arvidsons
https://www.arvidsons.com/wp-content/uploads/2015/08/logo-august4-2015-300x138.png
Arvidsons
2020-06-21 15:04:19
2020-06-25 22:03:56
Hosting Poolside in 2020