What's in a Pool Design? It's Up to You!
Choosing a swimming pool design that is best for you is one of the most personal aspects of the pool building process. What actually goes into pool design? It's up to you! Ask yourself some of these questions:
Are you design-centric?
Do you want to incorporate the latest design trends?
How important is the aesthetic appeal of the pool to you and your family?
Are you more interested in its functionality?
A custom designed swimming pool and/or spa can take on just about any form. Let's take a look at some basic categories and terminology to help you get started.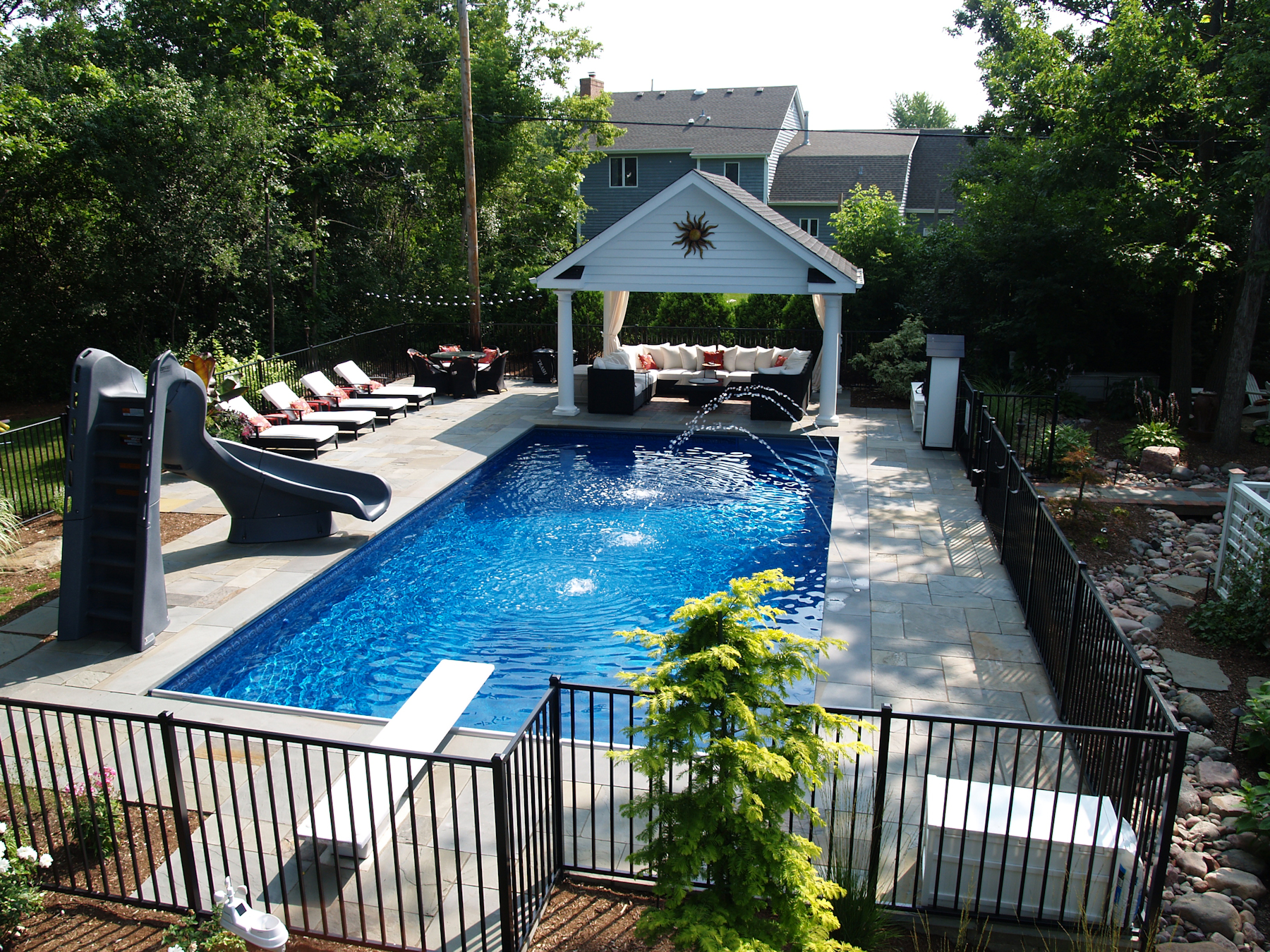 Geometric Pools
Classic design is never out of style!  A geometric pool has straight lines and/or more geometric curves. We associate this type of pool with basic shapes such as a rectangular pool.  People often call it the "Grecian" style, and it has a more "classical" look. Homes with more symmetrical property lines accommodate geometric pools quite well. A simple geometric design in the right setting provides a very elegant look.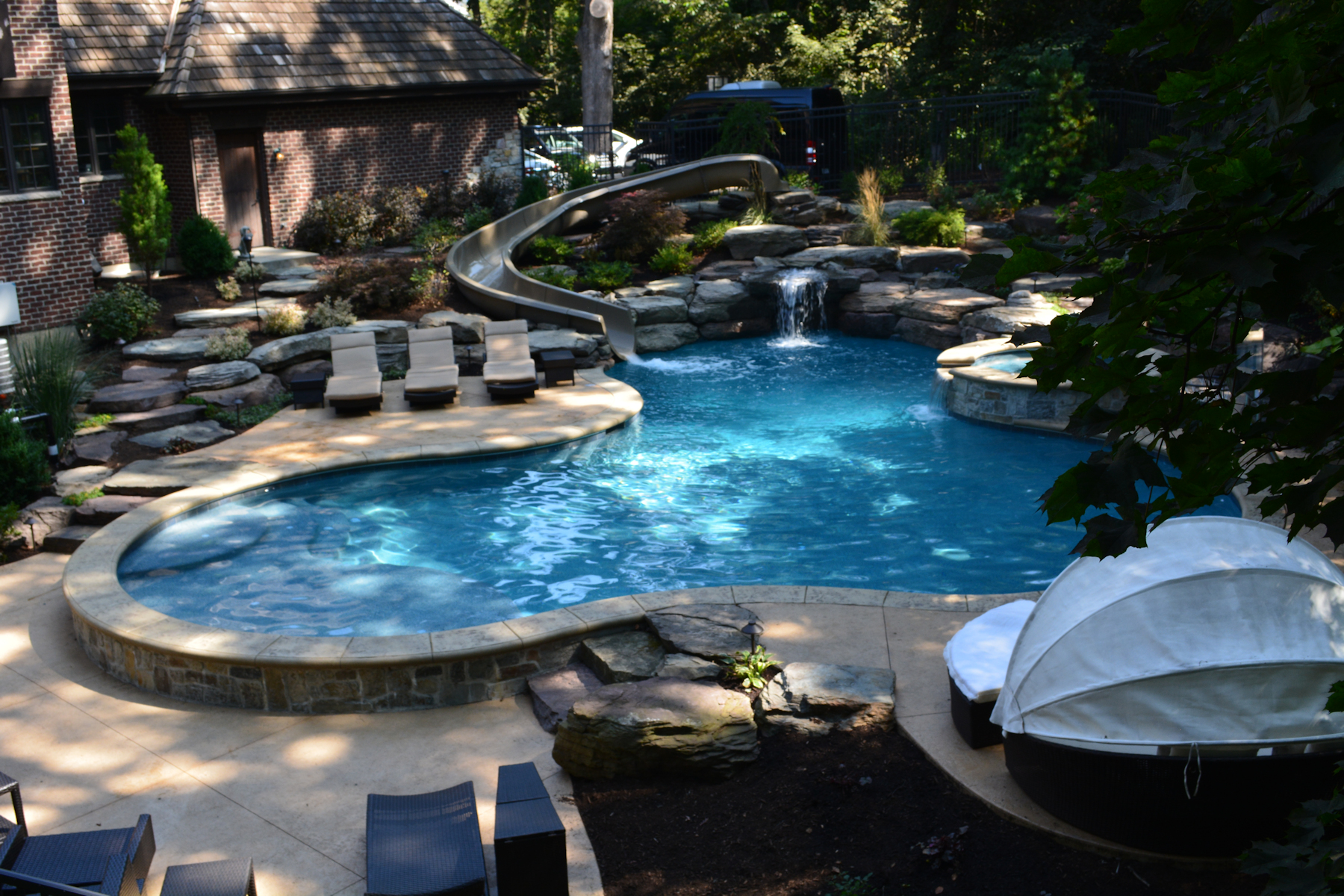 Freeform Pools
Feeling a bit more daring?  Freeform pools have "non-symmetrical" curves. We use this style of pool design to create a more "natural" look. We use bullnose brick or cantilever trim and darker interiors to accentuate a freeform pool.
Homes with irregular and non-symmetric property lines accommodate a freeform pool nicely.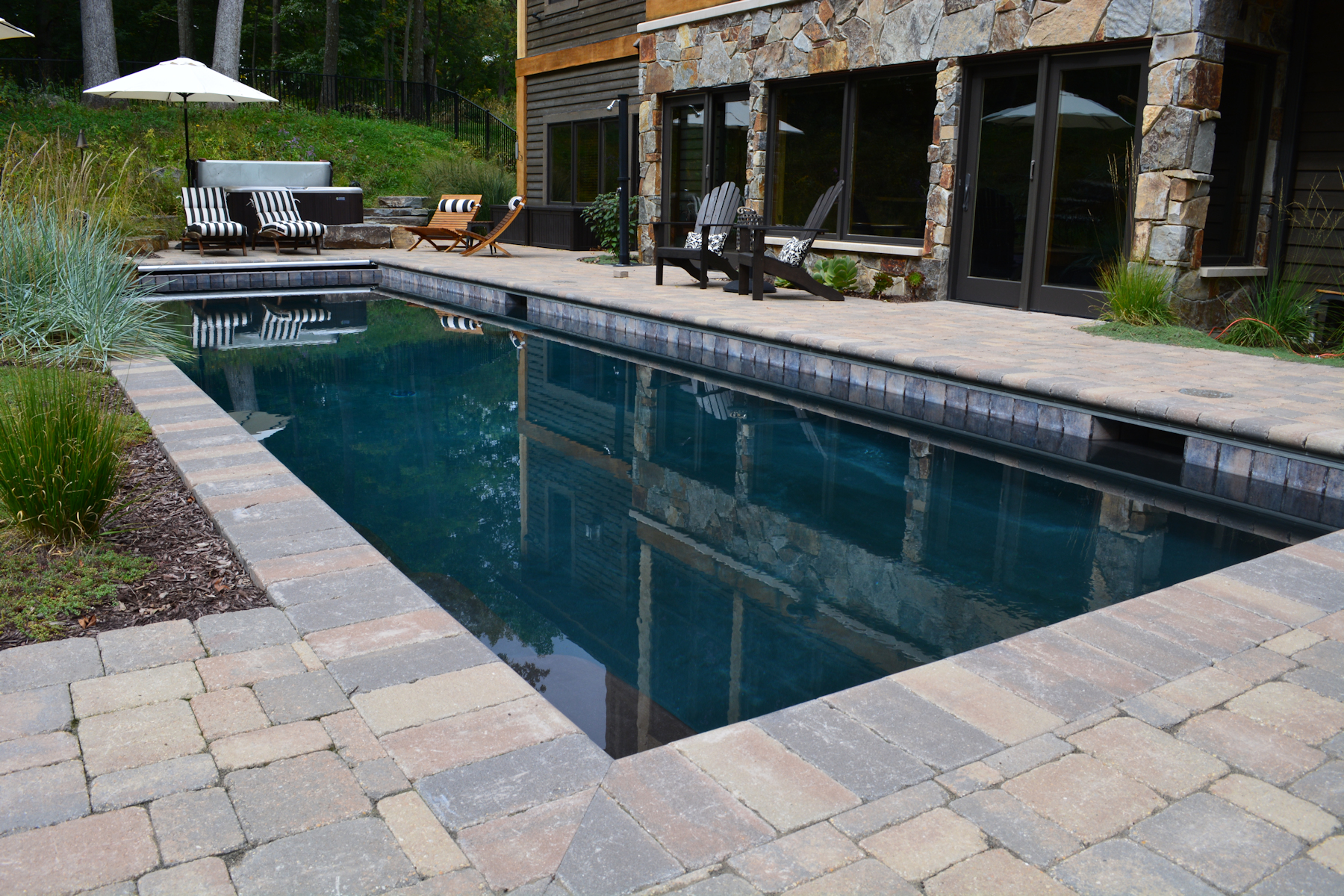 Lap Pools
Building a pool for exercise and fitness benefits?  You want to ask your builder for a lap pool. 
Most lap pools are geometric (for example, rectangular), but they can also take on a freeform shape with enough length left in one direction. This could be on a diagonal line to still accomplish lap swimming.
Swim spas are another option for those seeking a water fitness program but have a smaller space to work with.  Growing in popularity, swim spas provide water resistance to swim against as a jetted area for hydrotherapy.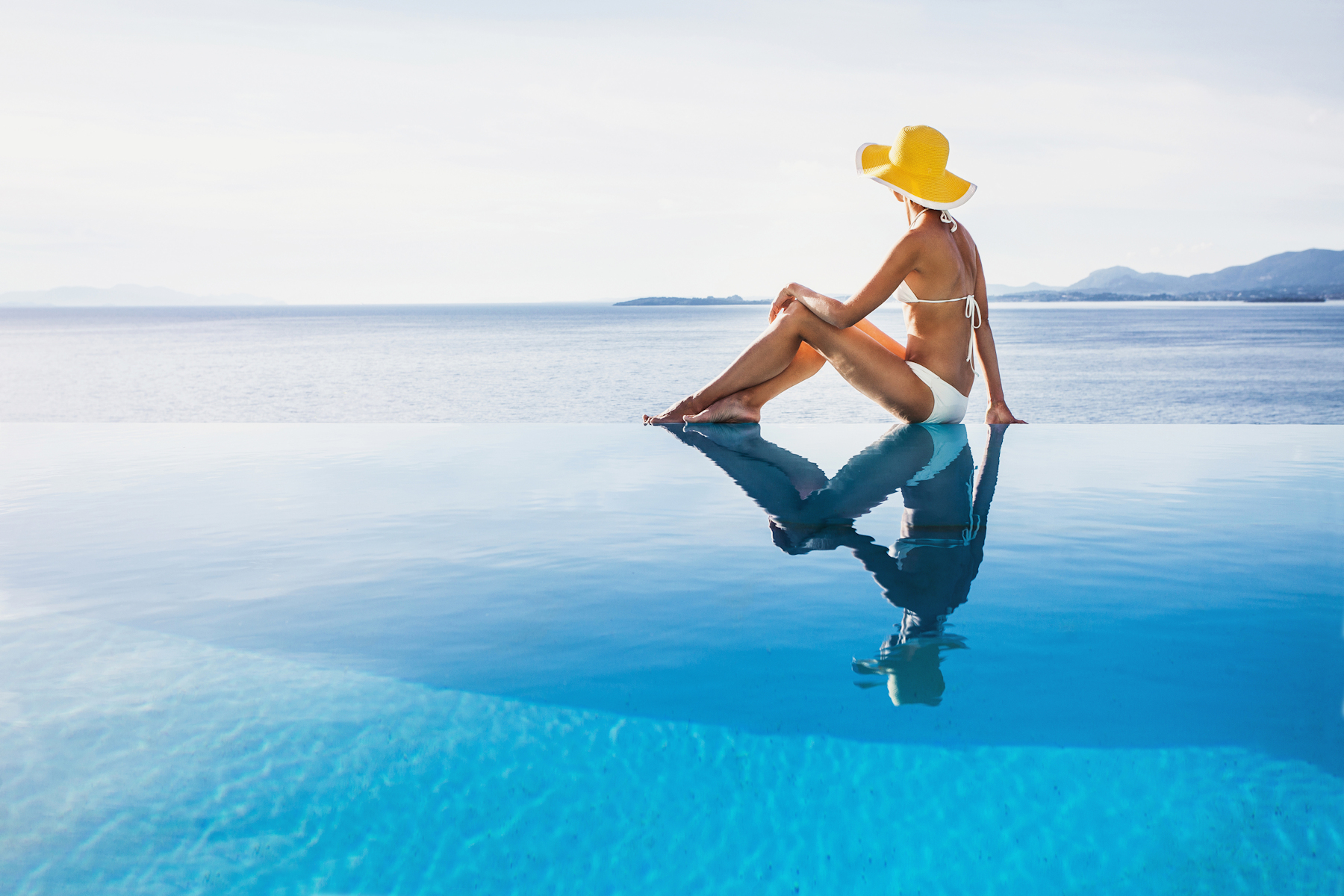 Vanishing Edge/Infinity Edge/Negative Edge
You've probably heard one of these phrases before, but they all basically refer to the same style of pool.
A portion of the pool is left just slightly below the water level allowing water to flow over that area into a catch basin. This creates the illusion that the water is flowing into whatever the backdrop view consists of. In the right setting, typically where the backyard falls away – perhaps into a steep cliff, into a lake, etc.- the effect can be extremely dramatic.
Options for Smaller Yards
Even smaller yards or those looking for "just something to get wet in" can be accommodated. So, depending on your available space and your intended use you may also find the following designs of interest: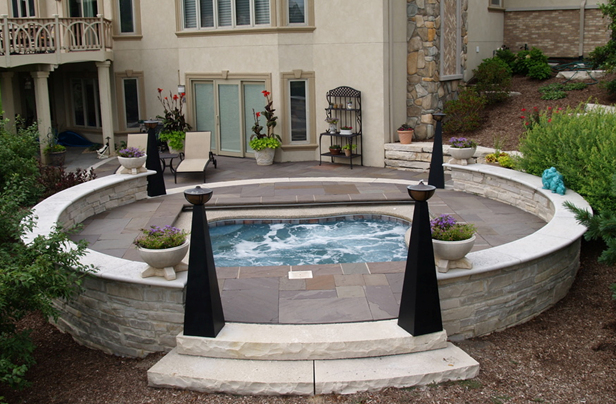 Spas
Hot tubs offer a year-round backyard retreat.
Spas may be completely separate from a pool design, incorporated within, or attached to any swimming pool. They provide another means to enjoy your "body of water" whether it is for the therapeutic value, a relaxing end to a busy day, or water therapy after an exercise session.
This article refers to custom built spas but portable hot tubs are also an option worthy of consideration.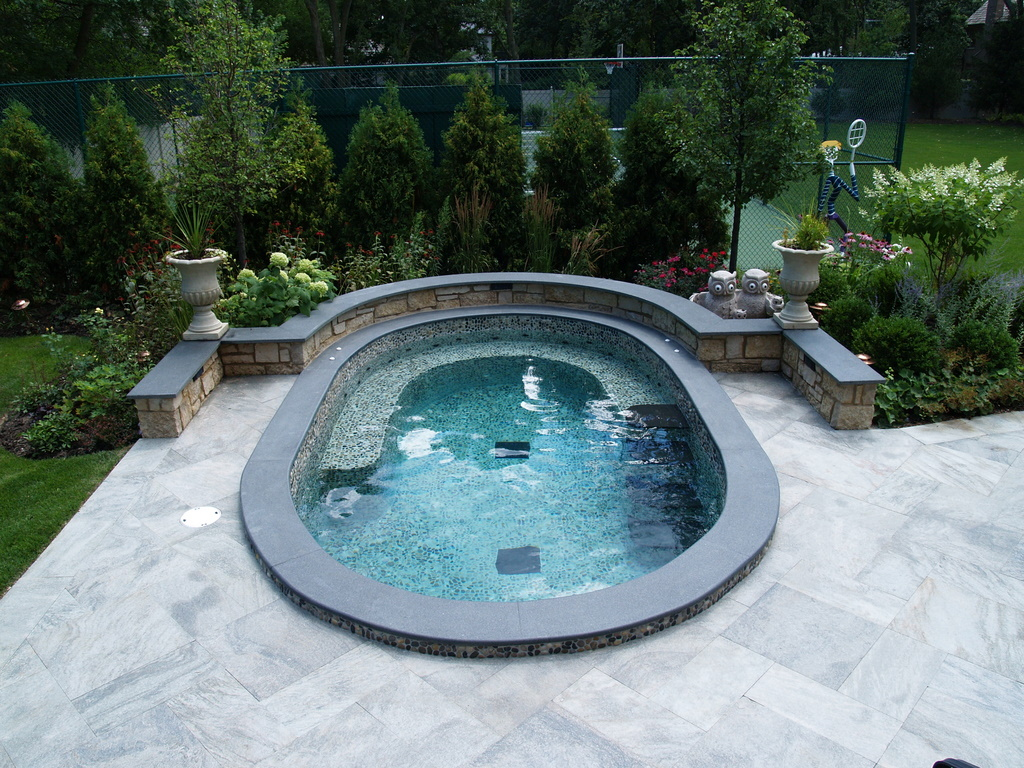 Spools
A fairly new term, spools are oversized spas or small pools people use for parties, entertainment and relaxation. Many people choose a "spool" to accommodate a smaller space. Spools can range from simple to extravagant depending on the features incorporated.
Design Overview
We hope you enjoyed this basic introduction to the different options available for your new pool or spa.
However, there are many other design considerations that can arise based on the terrain, your desire for water movement/water features, lifestyles, etc. A good designer, such as Arvidson Pools & Spas,  will assist you through this process while ensuring that the final design is buildable, durable, practical, and enjoyable.
Arvidson Pools & Spas brings more than 60 years of design and construction expertise to every project and we never forget that our family name is attached to every one of them for many years after our job is done.
We've prepared a Pool Buying Guide that provides a comprehensive outline of all aspects of the pool building process.  We invite you to download this guide here we welcome the opportunity to discuss any and all of your questions or concerns.
When the time comes for you to make your backyard dreams a reality, we hope you'll allow us to put our experience to work for you.
https://www.arvidsons.com/wp-content/uploads/2019/04/pool-design-4.jpg
571
1024
Arvidsons
https://www.arvidsons.com/wp-content/uploads/2023/04/65-Anniversary-Firecracker-Website-340x156-4.png
Arvidsons
2019-04-30 18:08:56
2019-04-30 18:09:18
What's in a Pool Design? It's Up to You!