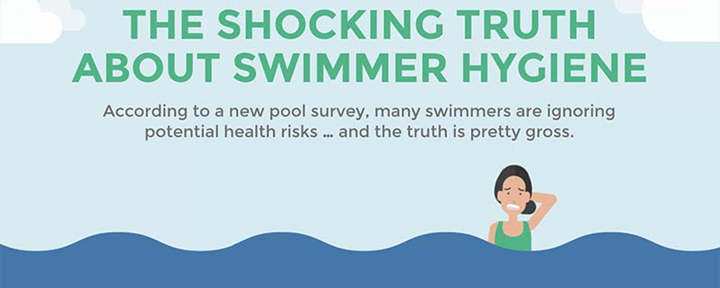 You always knew it, but you didn't want to believe it, right?  Well, you were right.  Public swimming pools are filled with contaminants that pose potential health risks.
But most people don't bother to check the health inspection reports before jumping in for a swim.
Let's look at the ugly truth about public swimming pools.
Survey Findings May Surprise You
The annual Healthy Pools survey, conducted by the Water Quality & Health Council, revealed these unhealthy swimming habits as reported in the Pool & Spa Marketing (May 24, 2018):
Most adults (52%) never shower before swimming. Only 29% shower for at least one minute, the length of time needed to remove most contaminants from a swimmer's body.
One in four swimmers (27%) admits they have peed in the pool as an adult.
The number of adults who said they would swim within one hour of having diarrhea (17%) is also alarming. This is especially concerning because Cryptosporidium (Crypto), a microscopic parasite, is the most common cause of diarrhea illness linked to pools.
A Well-Maintained Pool is Key
According to the article, "well-maintained pools are less likely to spread germs."
Swimmers can keep healthy before getting in the water by checking the pool's latest inspection results, as well as by making sure the drain at the bottom of the deep end is visible. You can also use test strips to confirm the water's chlorine or bromine level and pH are correct.
The CDC recommends a pH level of between 7.2 and 7.8, with free chlorine concentration of at least 1 parts per million (ppm) in pools and at least 3 ppm in hot tubs/spas, and free bromine concentration of at least 3 ppm in pools and at least 4 ppm in hot tubs/spas."
Arvidson Pools & Spas provides free water testing seven days a week to help pool owners (and managers of public pools) ensure their water meets these levels.
Know Before You Go
With the July 4th holiday approaching, many swimmers are heading to community pools.
According to Pool & Spa Marketing, "the Water Quality & Health Council has compiled a list of local and state health departments that provide online access to pool inspection reports. If a local community or state is not listed, we suggest you contact your local or state health department or ask the pool's manager directly for more information."
Swimming Pool Alternatives are Available
If your family loves to swim, it might be time to consider adding a pool to your backyard.
There are many swimming pool options available to match your backyard space and budget – inground, above ground, and swim spas.  One useful tool to help you determine if you are ready to take the plunge are buyer's guides.
Arvidson Pools & Spas provides the following resources to help answer your questions about each type of pool available:
Financing Options Help Make Pool Ownership Affordable
With financing terms and options, you don't have to wait until you can pay the full cost of the pool at once.  Monthly payments ease the strain and provide an avenue to enjoy a new pool now.
Online applications provide a private method to determine your financing readiness.
Stay Safe
Swimming is a great respite from summer heat and a wonderful way to spend time with friends and family.  Whether it's in a private or public swimming pool, remember to heed the water safety guidelines.
Check to make sure that the water you enter is clear of contaminants.  You'll be glad you did!
https://www.arvidsons.com/wp-content/uploads/2018/06/The-Ugly-Truth-About-Public-Swimming-Pools.jpg
288
720
Arvidsons
https://www.arvidsons.com/wp-content/uploads/2015/08/logo-august4-2015-300x138.png
Arvidsons
2018-06-25 12:01:55
2018-06-27 10:32:36
The Ugly Truth About Public Swimming Pools