5 Benefits of an Above Ground Pool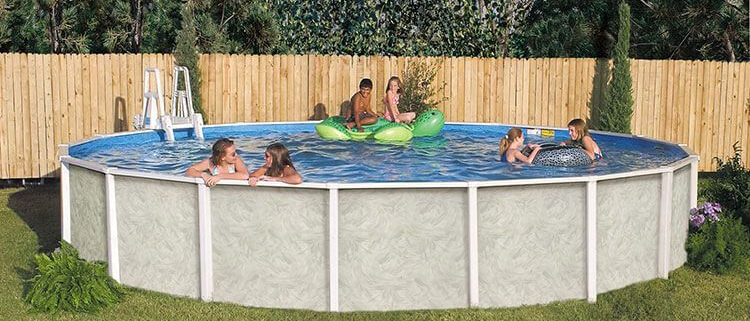 It's time to think about summer swimming and the benefits of an above ground pool!
If you want an above ground swimming pool, we encourage you to come to see us asap! With the increased demand for swimming pools, there has never been a better time than right NOW to buy a high-quality, American-made Doughboy swimming pool!
Take a look at this article for the five benefits of an above ground pool and why it's a great idea this year!
#1: Above Ground Pools are Affordable
One of the best things about our American-made Doughboy pools is that they're affordable. If you want a swimming pool, but an inground pool is out of reach, an above ground pool can fit into your budget.
The best thing to know is that you aren't sacrificing quality. Doughboy pools are just what you need for your dream backyard. You can count on its durability and longevity. With proper maintenance, your pool should last for years to come.
#2: Above Ground Pools are Quick to Install
If you want an inground pool, you may wait months for construction to begin. With an above ground pool, the time frame is considerably smaller. You can get on our list for a professional installation, or you can DIY the installation yourself!
With your above ground pool, you'll be swimming in no time.
It is worth noting that if you need to remove trees, or you need to grade your backyard, your timeframe may be extended, but you can be swimming this season!
If you want to install a pool in the shortest amount of time, an above ground pool is just what you are looking for.
For people who like doing things themselves, some of our above ground pools can be DIY projects. Doughboy pools has several installation videos that show you how to do this. If you don't want to install it yourself, you can count on our experienced installers.
#3: Above Ground Pools are Less Expensive to Maintain
The smaller size of the above ground pool means you need less pool chemicals which means you spend less money. Generally above ground pools are also easier to maintain. For you, this means you spend more time in your pool and less time taking care of it!
It's also easier to replace parts and provide service because all the pool is above ground.
Do note that you still need to balance your water, add chemicals, keep the pool clean, and test the water regularly so it's always ready for a dip.
#4: Above Ground Pools Come in Many Sizes
You have your choice when it comes to above ground pool sizes. From oval to round, you can choose from multiple sizes to fit your dream backyard.
This gives you control over the look of your pool as well as the layout and yard position. Prices vary, so we can help you find a size in your budget.
#5: You Can Take It with You
If you have an inground pool, it stays behind if you move from one house to another.
Since your above ground pool is above ground, you can take it with you when you move. You can dissemble your pool and reassemble it at your new home.
This is more cost efficient for homeowners and makes your pool a long-term, cost-effective investment.
Final Thoughts
Now that we've provided the five benefits of an above ground pool, we want to leave you with one last thought.
Above ground pools are good for your overall health and well-being. They're great for added family time, and the pool is a great place to relax and cool off during the hot summer months.
If you're ready for backyard memories for your family, stop by one of our locations, give us a call, or use the contact form to leave us a message! We'd love to help you find your dream pool for years of family fun, fitness, and relaxation!
https://www.arvidsons.com/wp-content/uploads/2022/05/5-Benefits-of-an-Above-Ground-Pool.jpg
500
750
Arvidsons
https://www.arvidsons.com/wp-content/uploads/2023/04/65-Anniversary-Firecracker-Website-340x156-4.png
Arvidsons
2023-04-26 08:00:06
2023-04-27 17:33:48
5 Benefits of an Above Ground Pool