With snow on the ground and cool temperatures lingering into March, summer may seem far away. Don't let that discourage you from taking these important steps now to be ready when warm weather starts.
This helps ensure you can start enjoying your backyard oasis at the earliest opportunity.
Check Your Pool Cover – Springs, Pump & Water Level
Freezing rain, wind, and snow may cause straps to loosen. It's always a good practice to check your cover to make sure it remains drum tight.
In addition, if you have a cover pump, be sure it's working properly to siphon off melting snow.
Finally, make sure that the water level is within 18" of the top of the pool. This is very important to reduce the stress on the cover and protect it from damage. If you find damage, schedule a repair service now before crews are booked up with pool openings.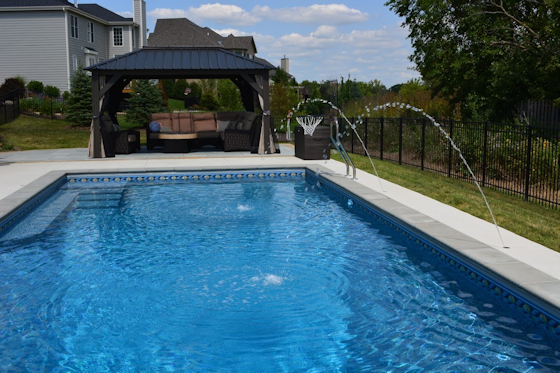 Apply an Enzyme Treatment to Your Pool in March
"Closing chemicals are usually added in October, and pools aren't usually opened until April, May or even June," said Arvidson Water Care Expert, Nadine Nuzzo. "It's a good idea to add an  enzyme treatment like Natural Result in March. Just lift up the cover and pour it in. This product works really well in cold water to help rid your pool of organics that built up over the winter months."

Drain, Clean & Refill Your Hot Tub
If you've enjoyed your hot tub during the winter months (one of the best times to enjoy a hot tub, BTW), your water is likely getting a bit high on TDS or Total Dissolved Solids. You may find it more difficult to hold chlorine levels. Let's get ready for warm weather.
Check the weather and find one of the warmer days coming up to refresh your hot tub with a drain, clean, and refill. Before draining the water, add a treatment of System Flush and let it circulate for 15 minutes. This helps remove built-up organics from the plumbing system. This in turn helps improve the condition of the spa water.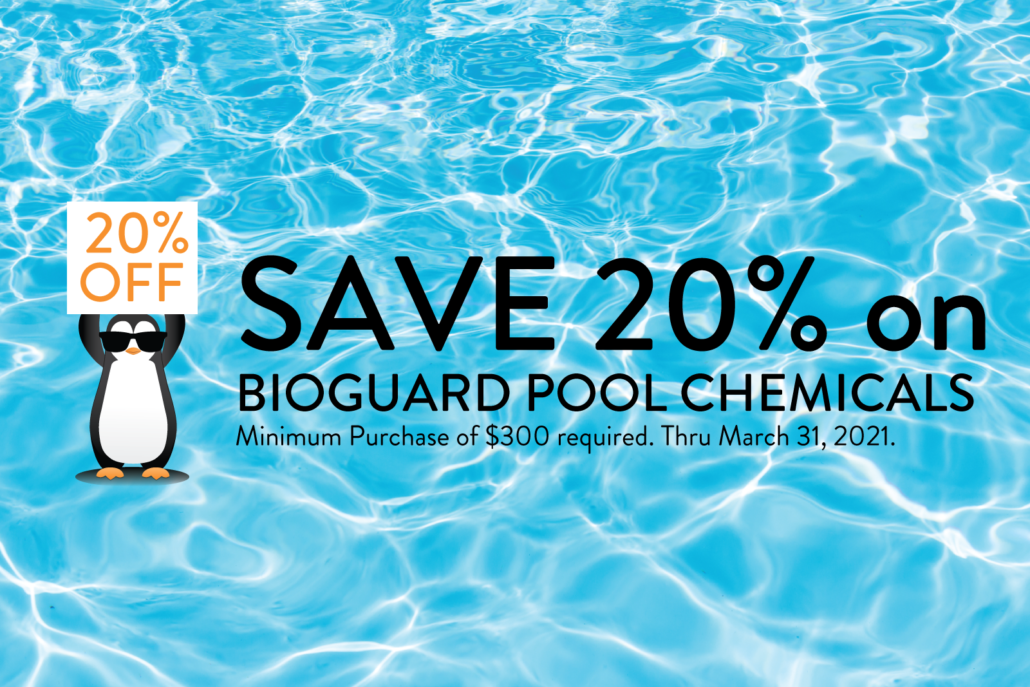 Take Advantage of Early Buy Pool Chemical Promotions
You can order your summer pool chemicals now and get some great savings. For example, you save 20% on your Arvidson order of $300 or more through March 31, 2021. Don't remember what you used last season? Give our store a call at 877-772-3209. We'll review past purchases and help you determine your needs for this season. If you'd like to place your order online, be sure to enter Coupon Code MAR21 at check-out to receive this discount.
Schedule Your Pool Opening Now
Another way to save money during warm weather and be proactive is to complete your pool opening agreement this month and save 5% on your service. If you choose an April opening, you'll save an additional 5% for a  total of 10% off your pool opening service.
Not only will you save money, you won't have to worry about forgetting to get on the schedule and then have to wait to open your pool. We know you want to be ready for that first warm day of summer!
Attend Our Virtual Pool Opening Class
Last year, we were all caught off guard by the fast spread of COVID-19. To ensure the safety of our customers and employees, we had to cancel our popular Pool School that provides a tutorial for pool owners who like to take care of this task on their own. This year, we've reached out to the BioGuard team and are pleased to announce that we are hosting a virtual pool school with Alicia Stephens, BioGuard chemist expert and water care professional. Exact date and time will be announced on our website and Facebook page
https://www.arvidsons.com/wp-content/uploads/2019/06/bare-feet-in-pool.jpg
1184
1605
Arvidsons
https://www.arvidsons.com/wp-content/uploads/2015/08/logo-august4-2015-300x138.png
Arvidsons
2021-03-03 20:21:20
2021-03-03 20:23:45
Take These Steps Now to Be Ready When Warm Weather Starts