Buy a Caldera Hot Tub From Arvidson, Win $5,000? It Could be You!
Last Chance to Win $5,000 When You Buy a New Caldera Spa!
As the saying goes, "All good things must come to an end."  This is definitely true for the Diamond Anniversary Hot Tub Promotion at Arvidson Pools & Spas which ends on November 1. This unprecedented offer marks the company's 60th year of business, and the owners have decided to give back with cash and prizes to three fortunate hot tub buyers this year.   
In the market for a new hot tub?  Then this is the right time to buy a new Caldera Spa from Arvidson Pools & Spas as you could get $5,000 of the cost of the spa returned to you!
It's part of Arvidson Pools & Spas 60th Anniversary Celebration and one way we're saying Thank You back to our customers.  Other prizes include a Weekend Getaway at Grand Geneva Resort in Lake Geneva and a six-month supply of SpaGuard spa chemicals.
Warm Water Benefits
What are your reasons for wanting a hot tub?
People have been soaking in warm water for centuries to relax. Today's hot tub owners are quick to tell us how soothing their spa feels and how recuperative it is. In fact, nearly everyone logically understands that a spa helps you relax, but not everyone has felt it.
There's simply an amazing sense of calm and release after you've spent time getting a soothing massage in a spa.
Break Through Screen Time and Reconnect With Family
What are you doing right now?  Reading a screen!
Screen time has escalated, and research indicates that people are spending 11+ hours of each day on electronic media!  (That statistic is from 2015 so it's most likely even higher now!)  Look no further than your hot tub for the perfect excuse your family is looking for to unplug from electronic devices.
If you thought nothing could wrench a teenager from their phone, you might be surprised by the meaningful conversations that happen when everyone unplugs and unwinds in a hot tub.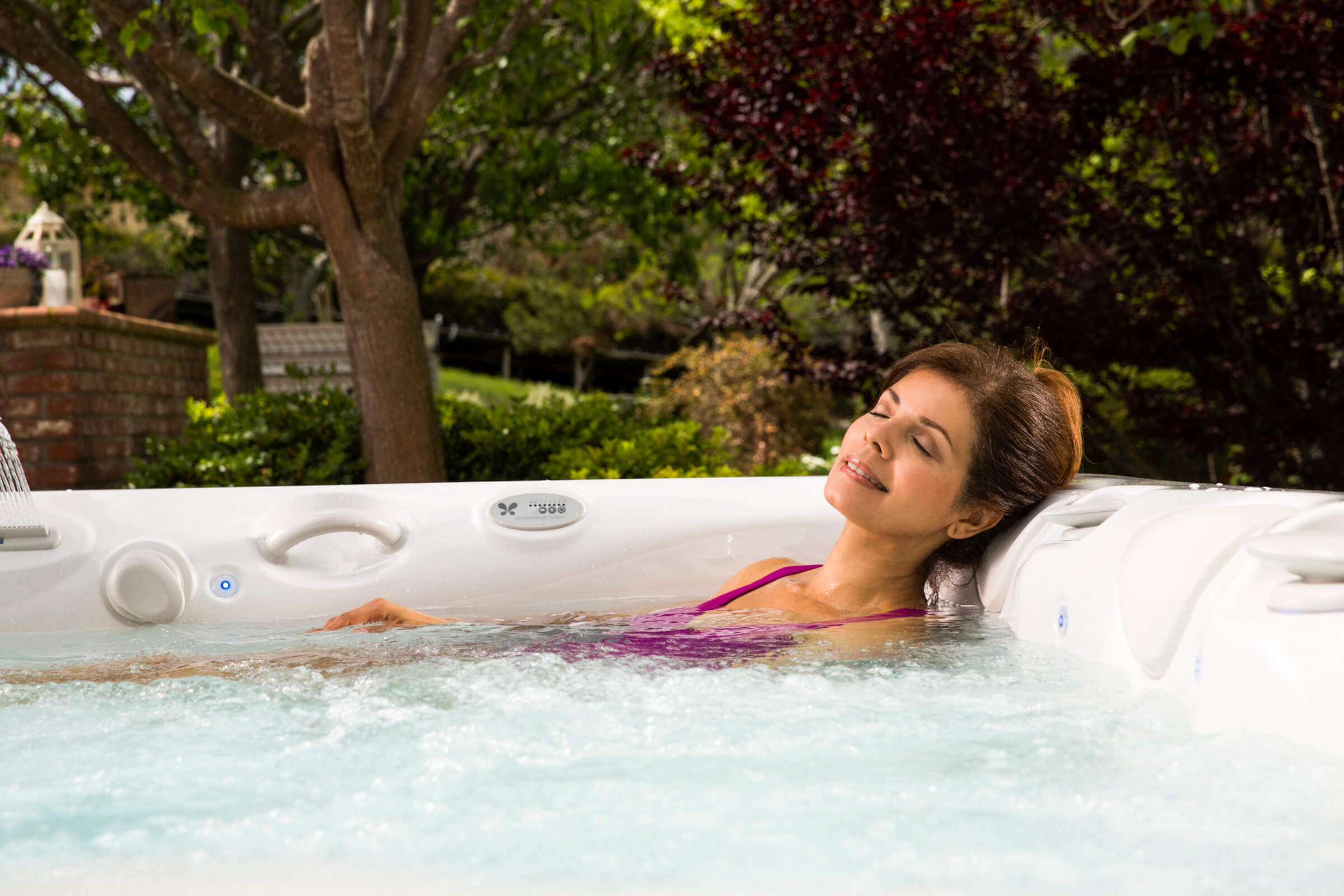 Caldera Spas – Quality Performance and Design for Over 40 Years
Arvidson Pools & Spas is a proud retailer of Caldera Spas which is recognized as one of the world's most trusted hot tub brands. Looking for improved well-being and exceptional self-care? Caldera Spas have this and more including features like signature Pure Comfort®, performance and style.
No Time Like the Present
"I wish we'd gotten our hot tub years ago" is a phrase we hear often from our customers.  Instead of saying no, why not say "Yes!"  Say yes to relaxation.  Then, say yes to better sleep.  Even better, say yes to better connections.  Finally, say yes to the wellness journey.
With a wide selection of models and prices, we'll help you find the perfect hot tub for your home.  Who knows, you might even get $5,000 of your purchase price back this year!
Here's How the Promotion Works
Buy a new Caldera hot tub between January 1 and November 1, 2018, and we automatically enter you into the drawing. We draw the winners on Sunday, December 9, 2018.  One entry per household.  Must be 18 years of age or older to qualify.
Find Your Perfect Hot Tub
We make it easy for you to find the hot tub that you will love!
One simple quiz helps us provide you with recommendations for the model that meets your needs based on such criteria as:
How many people will be using the hot tub?
How tall is the tallest person?
What is your budget?
Take our quiz here, and we'll help you find the Perfect Hot Tub.  Let's get you into hot water this year!
*All hot tubs sold this year (2018) qualify.
https://www.arvidsons.com/wp-content/uploads/2016/10/Caldera-Paradise-2013-Makena-Pearl-Espresso-Lifestyle-Older-Man-07.jpg
1559
2400
Arvidsons
https://www.arvidsons.com/wp-content/uploads/2023/04/65-Anniversary-Firecracker-Website-340x156-4.png
Arvidsons
2018-04-26 17:25:04
2018-10-17 22:42:09
Buy a Caldera Hot Tub From Arvidson, Win $5,000? It Could be You!