Change the Narrative: Spend More Time with Family

When it comes to your family, do you have enough time together? If you're like us, the answer is probably no. Most families are on the go all the time, and by the time your day is over, you may feel like you barely saw your kids!
If this sounds familiar, we encourage you to join us and change the narrative. Let's look at some ways to spend more time with your family!
First, let's look at the benefits of family time!
Why Together Time Matters
Before we look at strategies to spend more time with your family, let's discuss how these interactions can benefit everyone in your family.
For starters, research shows that families that spend quality time together have children who generally earn better grades in school and are less likely to become involved in dangerous behavior.
In addition, a Journal of Family Psychology study found that living with involved siblings increased a child's likelihood of doing good deeds on their own.
These are amazing reasons to spend time together, so let's look at a few more.
You Have Teaching Moments
When you share time with your young children, tweens, and teens, you may find you have the opportunity for teaching moments. These aren't the lecturing kind that go along with "clean your room," or "don't fight with your sister."
These are the learning moments that help your kids without any pressure. For example, you may find you can share something that happened to you as a kid. Or you may find your kids are so relaxed that they share on their own.
This is your opportunity to set an example and be a role model without a pressure type situation.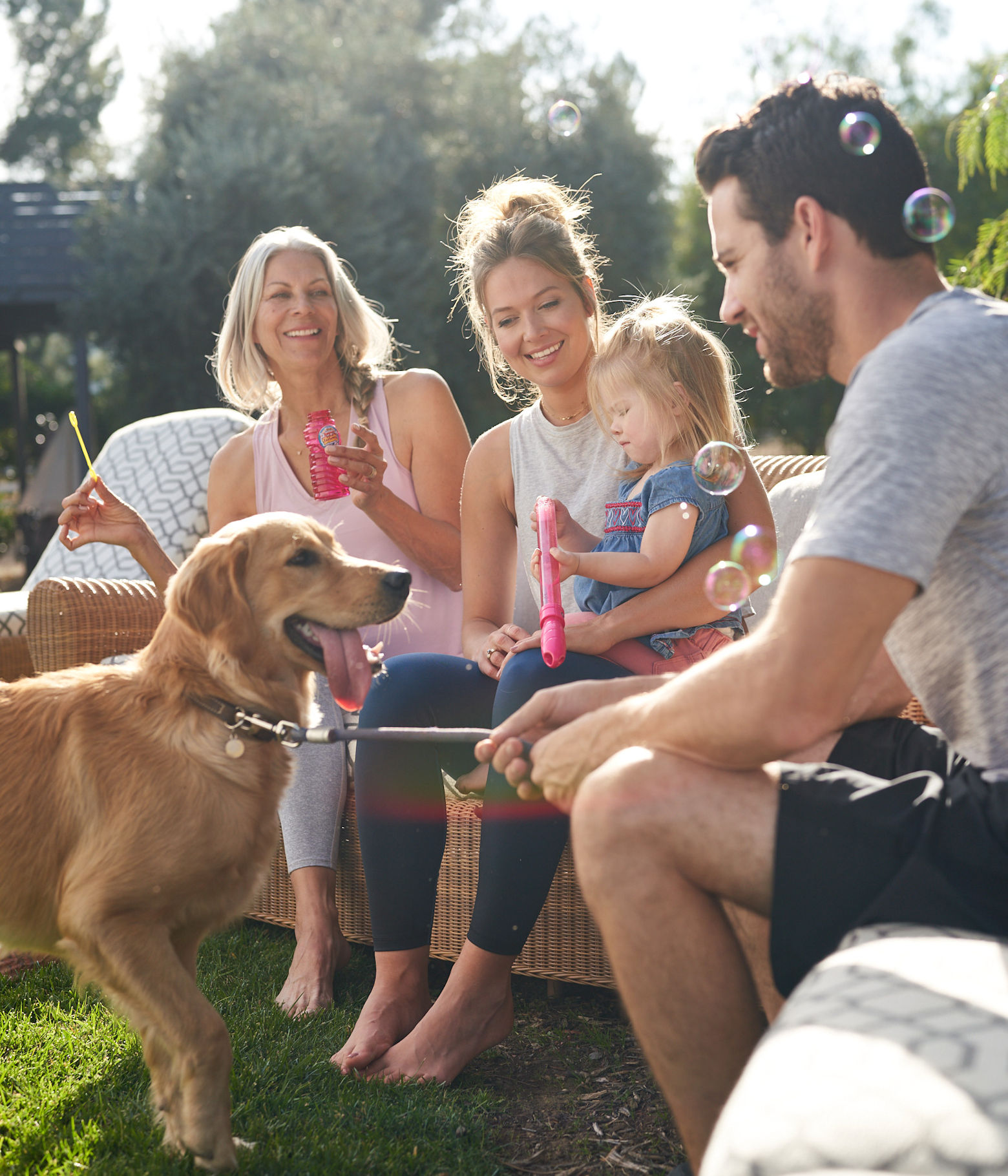 Together Time is a Healthy Choice
Let's imagine that you're relaxing with your kids in the hot tub after school. Your family is outside and enjoying fresh air. What they aren't doing is watching TV, texting, perusing the internet, or on Snapchat.
They are with you, doing something together.
In addition, research shows that the more time you spend with your children, the more influence you have over their future decisions.
For example, you can set an example by making healthy choices in the food you eat during your family activities. In other words, that simple soak you take now could have a significant impact on your little ones' futures.
Now that we know how important it is let's look at some ways you and your family can unplug and use a hot tub for family time. Check out these ideas: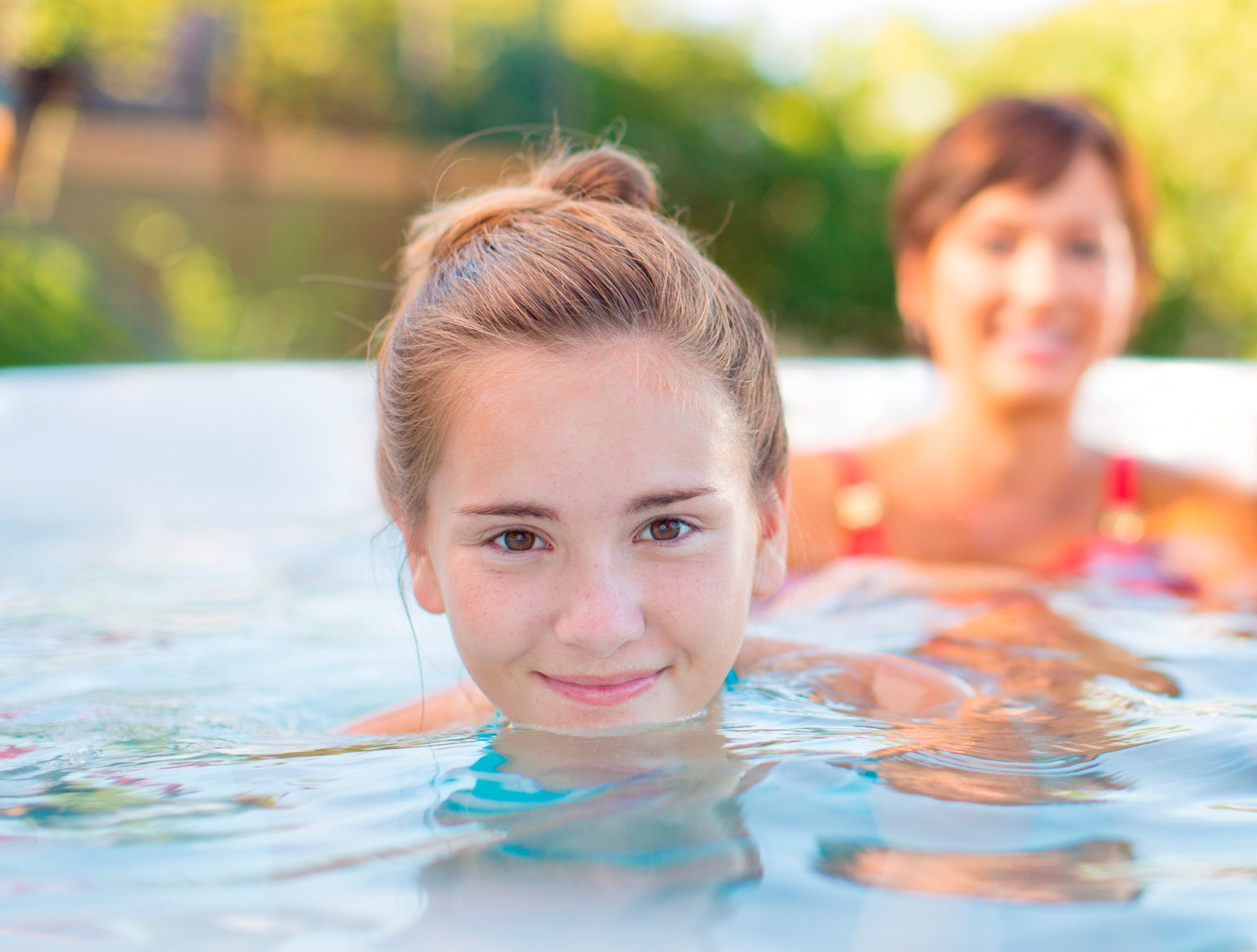 1. Make it a Game
Yes, the family that plays together bonds together. Consider these games that you can adapt for any ages:
20 Questions
Who Am I?
Word Trail
And if your family is a little more adventurous, you can also orchestrate your own version of hot tub idol, judging contestants based on talent and, of course, showmanship.
2. Bring a Game
You can also bring a waterproof board game into the hot tub with you. Travel versions of many popular board games are available, making them the perfect size for a hot tub soak.
Look for a game of entirely plastic components so you don't have to worry if a game piece goes overboard.
3. Reinvent Book Club
Laying back and listening to a book while you relax doesn't have to be a solo activity.
With wireless Bluetooth technology, your entire family can enjoy a book from the comfort of your hot tub. This is another activity that can be easily scaled based on the ages of everyone involved.
When the book — or chapter — is over, you can prolong the fun by discussing your opinions of everything you've just heard. The family member who makes the most insightful interpretation gets to pick the next book.
4. Enjoy Movie Night
Have a television outside?
Turn the traditional Friday night movie on its head by watching a movie while you soak in your hot tub.
Make a chart of who gets to pick the Friday night movie, or set your choices to a different theme each week, and you're ready to go.
5. Have a Race
If your family is competitive, your hot tub can be a great space to host a race or two. Plastic ducks, floating boats … whatever your object of choice, pick a start and finish point and let them go. Players get bonus points for being the last one standing upright.
6. Enjoy the Stars
Sometimes the best hot tub entertainment isn't happening in the tub itself but right above you.
On a clear night, enjoy a relaxing soak while gazing skyward. This can be an excellent time to teach your children to recognize certain constellations or to simply ask them what the stars look like to them.
The creativity of their answers is sure to keep you entertained throughout your soaking session.
Final Thoughts on Family Time
If the stress and busyness of every day are leaving you without the family time everyone needs, it's time to change the narrative!
Scheduling family time right into your schedule, and you'll never be without it.
Family time isn't a luxury; it's a must. You can eke out time each week for this all-important time. And with a hot tub, it's even more accessible. So, what are you waiting for?
If you have a hot tub, schedule family time. If you don't, come see us today, and let's get you one!
Get Pricing!



https://www.arvidsons.com/wp-content/uploads/2023/05/Change-the-Narrative-Spend-More-Time-with-Family-.jpg
742
1560
Arvidsons
https://www.arvidsons.com/wp-content/uploads/2023/04/65-Anniversary-Firecracker-Website-340x156-4.png
Arvidsons
2023-05-01 12:56:13
2023-05-01 13:42:55
Change the Narrative: Spend More Time with Family